Love Rocks at Machu Picchu!  Are you willing to go to the ends of the Earth to affirm eternal devotion to your betrothed? Til death do you part? Machu Picchu ruins are not the most extreme location for a wedding, but they are one of the most impressive.  Whether you want to shout it aloud for all to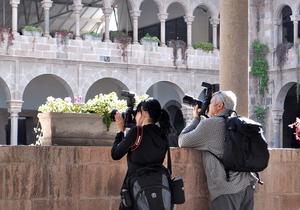 hear, or whisper tenderly in your loved one's ear, we make it possible to express your message of adoration in a world-class, picture perfect setting!  Machu Picchu and the Andes Mountains provides one of the most magnificent backdrops for your destination wedding.  
We are expert organizers with access to authentic local resources needed for any size wedding in Peru. We know how to organize tours to Machu Picchu that will blow your garters off!  We have guided over 6000 people to Machu Picchu.  Including wedding parties & honey-mooners!
Want to do a hike after the wedding? How about the 4-day Inca Trail?  Even the easy 1-day hike is doable by most active people.  We can split your group up to better accommodate different abilities. 
Organizing a wedding is similar to organizing a trip-of-a-lifetime.  It's special.  It's unique.  And each traveler/bride/groom has a vision of what their special trip/event should look like.  It should have character all it's own.  It's possible for the bride & groom to separate from the group after the wedding and continue their trip as honeymooners. 
Machu Picchu Wedding FAQ
Can we have our wedding ceremony inside the Machu Picchu National Park? 
It's not permitted to have ceremonies inside the park.  One of the best things about the Machu Picchu National Park is that they don't allow vendors or development anywhere near the ruins.  That's why they look so authentic.  They are!  But it is permitted to bring your wedding party inside the park.   We recommend that the ceremony take place in the Sacred Valley the day before you visit the ruins.
Can we get married by a local shaman?
There are many special outside places to stage a wedding ceremony.  In the Sacred Valley, we can hire a local shaman to officiate at your wedding.  It can be as elaborate or as simple as you choose.
What if we want to get married by a Catholic priest?
In Peru, Catholicism is embraced by many.  It is not a problem to be married by a Catholic priest
How much will our wedding cost?
The basic cost of a 7-day traditional tour to Machu Picchu based on 3* accommodations is $1290 USD pp.  Extras can include:  grooms dinner, flowers at the ceremony, live musicians at the ceremony, priest/shaman service, catered hot picnic at the ceremony, photographer, upgraded hotels and other special requests.  The extra costs will vary depending on the # of people in your group.  (Flights/meals/tips/insurance not included)
How many people can you accommodate?
Minimum 2
How do we book flights & what travel documents are needed?
Contact our US Office for advice about how to book international flights.  There are no special vaccinations or visas needed for US and Canadian passport holders.  We assist you every step of the way.  There is no extra cost for travel planning & organizing.
Here's a sample 7-day destination wedding / travel itinerary that includes a tour of Machu Picchu:
Day 1 - Arrive in Lima, Peru.  Walk to nearby hotel for quick overnight.
Day 2 - Fly 1 hour from Lima to Cusco where our guide meets you at the airport and transfers you and your wedding party to a very special hotel for check-in.  The wedding party gets a special, private walking tour of the city center with a stop in special places for special photos.  The first day will be relaxing as everyone adapts to the altitude.  Dinner in local restaurant of your choice.
Day 3 - Our guide arrives in a private vehicle to take you on a special tour on the outside of Cuzco, including Tambomachay, Qenco & Sacsayhuaman ruins.  Followed by a  special Groom's dinner in Mi Manera restaurant - cost not included
Day 4 -  Your Wedding Day in the Sacred Valley - Grand Picnic Feast prepared & served from a special outdoor kitchen that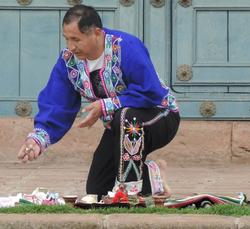 we set up just for you. Choose to be married by a Catholic or Indigenous/Shaman priest for wedding ceremony outside an ancient church in a small village. Exchange vows in the town of Tiobamba in the shadow of majestic, snow-capped volcanoes in the Andean Mountains.  All the festivities will be outside the front of the church with an adjoining feast.  Andean musicians will perform for dancing and dining until the darkness falls.  Our bakers prepare a special wedding cake made with local ingredients. As soon as the sun goes down, we drive your wedding party to Ollantaytambo to stay in a special family-owned hotel where the bride & groom sleep in the a view of the Ollantaytambo ruins.  
Day 5 - Ollantaytambo - Aguas Calientes - Machupicchu
Early breakfast at the hotel followed by guided transfer to the train station for your ride through the picturesque Urubamba Valley to Aguas Calientes.  Board the shuttle bus to Machu Picchu for a private, guided tour of the ruins followed by time to wander alone. Return to Aguas Calientes for dinner.   Bride & Groom have the option to check in to separate hotel or stay with the wedding party
Day 6 -  Machupicchu - Cusco
Enjoy a late morning at the hotel before you board the train to Ollantaytambo and return to Cusco for a free afternoon in the city.
Day 7  Depart Cusco  for Lima
Transfer to airport at least 2 hours prior to scheduled departure. 
Click here to contact us for pricing and availability. 
Let us know:  dates you plan to travel, number of people in your group, preferred class of hotel