When should you travel to Machu Picchu?
That's the #1 question asked when inquiring about travel to the magnificent ancient ruins of Machu Picchu.  We get more questions about when is the best time to travel, than any other topic.  See the answers below to: best time of year, best time of day and how seasonal variations can affect the traffic and travel at Machu Picchu.  If you have specific questions about your travel dates, please contact Adios Adventure Travel US Office
Click here to get up to date news on how changes to Machu Picchu entry tickets will affect everyone beginning in July 2017.
What time of day is the best to visit Machu Picchu?  
Mornings are very crowded and when possible we arrange for our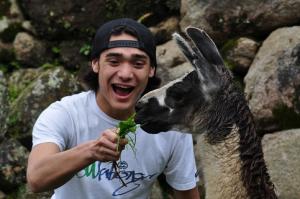 groups to visit in the afternoons.  Machu Picchu National Park is open from 6 am to 5:30 pm 365 days a year.  Early mornings can be misty and foggy which may burn off by 10-11 am. Travelers seeking the enigmatic sunrise over Machu Picchu have low chances in the rainy season.  Most of the morning congestion prior to July 1, was due to 1-day visitors. However with the new half-day tickets, we are expecting that 1 day visitors will shift to the afternoons because logistically, it takes 4-5 hours to travel from Cusco to Machu Picchu. And the morning shift ends at 12 noon. The biggest obstacle to getting to Machu Picchu now are the shuttle buses from Aguas Calientes. We are seeing wait times that average 1 hour going up and 1 hour coming down. Choosing to visit in the afternoons can be the best time to explore with the least congestion and there are several evening trains, if you don't mind getting back to Cusco late evening. Afternoon light is often preferred by photographers.  Sunrise is about 6 am daily and sunset is about 5:30 pm.   If you're planning to buy entry tickets on the government website and you have questions about the 1/2 day tickets for afternoon entry, click here to get the scoop.  It's not what you think.
There's two important things to realize about Machu Picchu and the weather.  One is that there are basically two seasons.  A dry season and a wet season.  By late November, the rainy season begins, then by late March, tapers off to the "dry" season.  The other important thing is that Machu Picchu is located in the mountains at 8000 ft/2438 m above sea level, and the altitude can affect weather patterns causing sudden shifts and changes, sometimes in a matter of minutes. 
Should you visit during the rainy season? 
Just how bad is the rain? Rainy season does not mean non-stop monsoons.  It does mean the threat of rain is greater during this time of year and the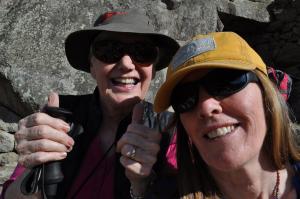 incidence of rain is more prevalent. February is the peak of the wet season and the most rainfall (6"/150 mm) can occur during this time.  The least amount of rainfall is in June/July (.2"/5 mm)   The Inca Trail is closed in February for annual maintenance, which makes sense during the wettest time of year. The rainfall in Cusco, Peru is about the same as Seattle, Washington in January, but less than Townsville, Australia, which absorbs over 220 mm in February.  Here's a link to our packing guide which includes annual rainfall charts for Machu Picchu. (and charts for Galapagos Islands and Amazon rain forest)
What time of year should you travel to Machu Picchu? 
If you live in the northern hemisphere, you are likely to have "summer" vacation in June, July, August, when the weather in Peru is the most dry.  Of course, this is also the high travel season, and we suspect that many small countries are vacant during this time of year, as all their citizens come to tour the ruins of Machu Picchu!  If you have the flexibility to travel from March through early May or late September through November, you may see fewer tourists with tolerable levels of rainfall.  Some consider a worthwhile tradeoff.  Everyone is advised to carry raingear at all times. 
Traveling from the southern hemisphere, you'll enjoy your "summer" vacation in December, January & February.  The fact that it's the rainy season does not mean you can't travel to Peru and to Macchu Pichu during this time.  It means you should be prepared for fog, mist, clouds, sunshine and rain.  All in the same day.  That's the beauty of the high mountains.  If you don't like the weather, just wait 5 minutes, it might change. 
Are holidays a good time to travel to Machu Picchu?  
Well, yes and no.  It depends on how far in advance you book your trip and how much you like being around crowds.  Here's a list of annual holidays where you can expect to see an increase in visitors.  And congestion.
Click here to view our 3-year comparison of Machu Picchu ticket sales.
Easter and Easter week.  Families from the USA take vacations during spring break.  March or April.  Dates change each year
June 24 - Inti - Raymi Festival.  Cusco is the center of the Sun God festivities and on weekends the historical city center may to be closed to traffic.  Congestion begins around mid-June and continues through the end of the month. If you want to attend the Inti-Raymi festival, we can help yo get entry tickets.  
July 28 - Peru Independence Day.  Peruvians take their family vacations and the last 2 weeks of July can be very busy.  Includes Machu Picchu as well as other parks and attractions throughout the country.
August - Machu Picchu entry tickets always sell out.  Visitors from northern hemisphere are on their summer vacation.  This is one of the "busiest" months of the year at Machu Picchu.
October - according to Machu Picchu ticket sales, this is the second busiest month.  We don't know why.  Our sales support this data. View our blog to see 3 year comparison of ticket sales.
November - USA Thanksgiving week.  Tickets and permits for Inca Trail sell out at the end of the month before they sell out in the beginning of the month.  Many people travel during US Thanksgiving week.
December - Christmas and New Year holidays.  Please book your holiday trip early.  Inca Trail permits will sell out at the end of the month of December before they sell out at the beginning of the month.  And hotels will be booked to capacity from approximately Dec 20-Jan 2.  Fortunately, Cusco has an abundance of hotels of all classes. 
Is there a low season?
Kind of.  Prices for trains and entry tickets remain the same year round.  Some luxury hotels will offer seasonal discounts on their websites or hotel search engines.  February used to have the lowest number of visitors. But if you view our chart showing ticket sales for the last 3 years, you'll see that February sold out in 2016.  This could be due to the fact that the Inca Trail is closed for maintenance every year and it's the height of the rainy season.  If we had to choose a low season, it would be January.
When should you hike the Inca Trail?  
Both the 4-Day and 1-Day Inca Trail hike (AKA the 2-day Inca Trail hike) require permits that we can get year round if available. The Inca Trail is closed every February for maintenance. (Machu Picchu is still open and accessible by train.) The number of people on the 4-day Inca Trail doesn't change from year to year because it is limited to 500 people per day including porters and guides. There is no low season, but January seems to sell the slowest.  In the past, permits have gone on sale in early January for the new season and operators would scramble to be the first to get their permits for groups hiking in May which would sell out in a few hours. However in 2017, permits quietly went on sale in December 2016.  This early release eliminated the opening day scramble for permits for hikes in May, but it means that people who booked 6 months or more in advance were more likely to get their 1st choice for hikes during the month of May, and portions of April (Easter holiday) and early June. This is the single most important factor in determining if you can get a permit in May on your 1st choice date. You must confirm your reservation for hikes in May no later than the beginning of December.  It is impossible for any operator to guarantee hike dates in May until the office opens and we buy the permits. Rumors are circulating that Inca Trail permits will go on sale in October 2017 for hikes in 2018.  We require that any group planning to hike in the spring should have 1st, 2nd and 3rd choice dates on record.  Annual Inca Tral hiking season begins March 1 and ends January 31 of the following year.  Once the office is open and the government website is updated, we can tell you immediately what dates are available.  In 2016, the government separated the booking system for the 4-day Inca Trail hike from the 2-day Inca Trail hike, and added 250 more spots per day to the 2-day hike.  But the permit availability was never open to the public, so permits never sold out. Beginning July 2017, the government website shows permit availability for both the 4 day and 1 day Inca Trail hikes. And we have already noticed an increase in sales for 1-day permits.  It is likely that permits for 2-day hikes will sell out more quickly than they have in the last 2 years.  (updated June 21, 2017)
If you need help choosing dates, click here to email Adios US office, or give us a call in our US Office:  757-714-6649