What is an adventure cruise?  
An adventure cruise is an enjoyable yet authentic way to experience the amazon rain forest from the comfort of a small, eco-certified riverboat.  Guided, daily excursions into tributaries along the river bring you face-to-face with wildlife and offer a glimpse of a world that is far removed from what most of us know or have ever witnessed.
Click here to view the itinerary for the Ecuador riverboat cruise
Who is best suited for this adventure cruise?
Recommended for ages 10 and up and active citizens of any age.  Families, destination wedding parties and educational groups are the perfect match for this trip. There are no elevators on riverboat.  Be prepared to climb up and down steps between 3 decks.  
How do you get to the riverboat?
International flights arrive Quito, Ecuador daily.  Then transfer to hotel for overnight.  Next day fly to Coca airport where you will board a motorized canoe for the 2 hour transfer to the riverboat.  We take care of all the logistics once you arrive in Quito.  
What amenities does the riverboat have?
Comfortable cabins with private bathrooms and running hot water, individual air conditioning, on-board laundry service, large glass-enclosed dining room, attractive bar and lounge area, panoramic terrace, delicious cuisine and the finest multilingual naturalist guides.  Plus highsafety standards, personable service and efficiency. And when the boat is parked at night, there's even internet, mobile phone service and satellite TV, if you want to know what's cooking in the outside world.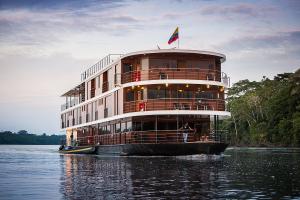 Boat FACTS:
Beam:7 meters (23.1 feet).
Speed:  12 knots.
Electricity:  110/120 V, 60 cycles.
Generators:  2 Iveco.
Engines:  2 John Deere, 250 HP.
Safety:  Fire detectors, life jackets, 2 life boats.
Decks:  Main deck, cabin deck, sun deck.
Navigation equipment:  Furuno GPS, deep sounder and radar.
Communication:  VHF, HF, satellite phone.
Facilities:  Bar, restaurant, boutique, laundry, air conditioning, rubber boots and rain ponchos, satellite TV, and (limited) Internet access.
Cabins:  The ship has capacity for 30 passengers in 14 cabins for single, double and triple occupancy, each with private bathroom, air conditioning and hot water.
Crew:12 (including naturalist guide)