What if you could take only one adventure trip in your entire life? Where would you go?  What would you do?  
We've combined the best of Peru into one amazing adventure: an excursion to the Amazon Rain Forest, a visit to the world-renowned Machu Picchu ruins, and a step back in time to Lake Titicaca, the highest navigable lake in the world.  And all can be done in only 2 weeks.  This is the most fun you'll ever have on a trip. 
Here's what US passport holders need:
a valid passport that does not expire within 6 months of your travel dates

a roundtrip ticket to Lima, Peru

optional Yellow Fever vaccination recommended for visitors to Amazon rain forest 
Highlights include:
small group and private tours
domestic flights (3 legs)
optional activities:  hike 1-day or 4-day Inca trail, overnight homestay on Lake Titicaca
cultural tours and activities for special interests:  photography, textiles, active travelers, families, seniors
English-speaking knowledgable local guides
flexibility: add day hikes, picnics, cooking classes, indigenous culinary activities, daybreak & sundown visits to Machu Picchu, hike to Huayna Picchu
choose budget-friendly options or splurge
Got more time? Add on extensions to Bolivia Salt Flats or Galapagos Islands.  Do it all in 3 weeks or less. 

14-Day Itinerary

Day 1: Arrive Lima Airport
Transfer to hotel for overnight.
Day 2: Fly Lima to Puerto Maldonado
Transfer to airport for check-in for flight to Puerto Maldonado.  Your guide will welcome you at the airport in Puerto Maldonado and drive you to the office to repack & store luggage. Then continue to the boat dock on the Tambopata River.  Board a motorized canoe and head towards the nearby confluence of the mighty Madre de Dios River to the mouth of the Heath River which is the natural border of Peru and Bolivia. After brief formalities at border crossings, we take the boat through the narrow waters for a couple of hours until we arrive at our simple, but comfortable jungle lodge just in time for dinner. (Private bath, hot water & meals included.)
Day 3: Guided Activities in the Rain Forest
Today we start very early to visit the most spectacular attraction of this area: the parrot and macaw clay lick along the river. We return back down the river on a guided walk through jungle trails. After lunch we hike along the trail leading to the point where the forest abruptly gives way to the vast plains of the Pampas of Heath. Just beyond the edge of the forest you can climb to an elevated platform that allows for a view of this vast expanse of grasslands and shrubs, dotted with palm trees. We aim to arrive around sunset, when the parrots are returning from their daily search for food to gather in this place. We return to the lodge at night using headlamps and flashlights, After dinner guests may choose to visit the lick of mammals, with the hope of seeing the Lowland Tapir, the largest mammal in the jungle.
Day 4: Guided Activities in the Rain Forest
On our second full day in at the lodge we can choose from a wide range of activities. Many people choose to make a second visit to the macaw clay lick or spend more time on the trails. Later we take a canoe tour around the Cocha Platanillal, an oxbow lake which is located a short distance downriver from the lodge.We return by boat after dusk. (BLD)
Day 5: Rain Forest Lodge to Puerto Maldonado to Cusco
We leave early for 5 hr return journey downstream. We return to Peru and head upstream to Puerto Maldonado, where you will be transferred to the airport for flights to Cusco. Adios guide will be waiting in airport holding a sign with your name, to transfer you to Encantada hotel for check-in followed by guided walking tour of the city center. The schedule is flexible to allow you time to adjust to 11,000 ft altitude. Dine in restaurants of your choice. Overnight in hotel. (Good day to send out laundry if needed.)
Day 6: Cusco outskirts tour / Free Afternoon
08:30 AM guide will pick you up for 15 minute drive to the tranquil terraced rocks of Tambomachay ruins (meaning guest house), with aqueducts, waterfalls and canals where it is said the Inca emperor came here to bathe and perform religious rites in the water. Choose to walk 7 KM through local farms (or drive on paved road) to the mysterious Qenco temple ruins where sacrifices and mummification took place. Not far are the ruins of Sacsayhuaman, one of the most significant archaeological legacies of the Incas. Due to the complexity of the layout of the massive blocks of stone, some bigger than a car, the construction of Sacsayhuaman lasted more than 50 years and employed over 20,000 men in the construction. Return to hotel. Dine in restaurants of your choice.
Day 7: Sacred Valley Tour / Aguas Calientes
08:30 AM guide will pick you for 30 minute drive to Chinchero where you meet Qechua weavers who demonstrate the art of hand-made textiles. Continue to Inca Greenhouse ruins in Moray to discover the sophisticated botanical practices of the ancient Incas. Then drive to the oldest still-occupied village for dinner before you board the 1900 train for 1.5 hour ride through the Urubamba Valley to Aguas Calientes. Walk to hotel for check-in (option for short hikes if desired).
Day 8: Machu Picchu - Cusco
Take early shuttle bus (earliest is 5:15 am) to arrive at main gate of Machu Picchu National Park anytime after it opens at 6 am for guided tour & time to explore on your own. At 10am, option to hike Huayna Picchu. By early afternoon, you will board shuttle to return to Aguas Calientes and arrive at the station for afternoon train to Ollantaytambo, where our driver will be waiting. Continue by car 30 min. to Cusco. Arrive hotel in Cusco about 4-5 hours later.
Day 9: Free Day in Cusco
Good day to do laundry and explore on your own.
Day 10: Cusco to Puno 
Transfer to station for 7 am tourist bus for ride through the beautiful highlands with stops at Andayualillas, known as the "Sistene Chapel of the Andes," and Raqchi ruins. (Entry to the sites is optional and tickets can be purchased at the time you are there. About $12-15 pp.) Buttet lunch is included. Arrive Puno where you transfer to hotel. Meet with guide at 6 pm for pre-trip briefing. Then walk to local restaurant of your choice for dinner. 
Day 11: Day trip to Islands & continue to Luqina for overnight Homestay
At 06:30 AM Depart hotel to docks where you board covered boats with your private guide for 30 min trip to Floating Reed Islands. Continue to Taquile Island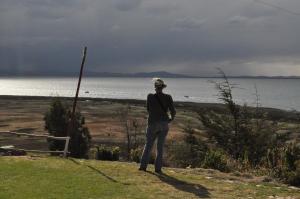 for lunch. (cost of lunch not included) Drop off at Luqina Peninsula with your private guide for overnight Homestay with local family (simple meals included: soup, fava beans/quinoa/rice or potato dish/hot tea. Bread and tea for breakfast. Coffee drinkers should bring packets of instant for breakfast if desired). Overnight in private cottage with private bath. Hot water provided by on-demand heater attached to shower head. Sink has only cold water tap. Bring drinking water or purifier. Headlamp/flashlights are helpful.
Day 12: Return to Puno overnight
Hang out with local family on the farm/in the home or hike to nearby sights. Afternoon pickup by boat to return to Puno by 4-5 pm. Transfer to hotel. (you will have local guide with you during the activities)
Day 13: Puno to Lima
Transfer from hotel for 45 minute ride to airport in Juliaca at least 3 hours prior to scheduled flight to Lima, where you make international connection.
Best time of year to travel:  April - November

14-Days Cost pp in USD: 
$2891 based on double / triple occupancy & arriving Day 1 on any Sunday or Wednesday
(includes 3 domestic flights in Peru)
$3147 based on double / triple occupancy & arriving any day
(includes 3 domestic flights in Peru)