Please send me information about this trip
Day 1: Arrival in Lima
We arrange your transfer to the hotel for one night.
Day 2: Lima to Cusco
Transfer to the airport in Lima for short flight to Cusco where our driver will be waiting to transfer 15 min to your hotel for checkin.  City Tour starts (depending on how early) at the great temple of the sun, known as The Golden Qoricancha, (closed on Sundays) not far from the Plaza de Armas. This impressive temple is considered a sacred and treasured Inca structure. It is said that the temple housed a large group of Inca priests responsible for worshiping  the moon and the sun gods. And at the time the conquistadors arrived, the walls were covered with solid gold and so many gold ornaments and gold  jewelry, that it took weeks to melt all the gold for shipment to Spain. We continue the tour stopping along the ancient Inca streets, to the divine Cathedral of Cusco, considered by many to be one of the most splendid in all of South America. Dine in restaurant of your choice. (B)
Day 3: Sacred Valley Tour
08:30 AM Pickup from hotel and drive about 30-40 min to Chinchero, home to the famous colonial style church and archaeological ruins and the backdrop for Qechua women & girls who demonstrate traditional dyeing and weaving.  (One of the best indigenous markets is on Sunday in Chinchero) Continue 20 KM to the greenhouse ruins of Moray to learn about the sophisticated botanical practices of the Inca. Then drive about 11 KM over dirt roads to Maras Terraced Salt Ponds. Here you learn how salt is harvested and the importance of salt for economic exchange since Inca times. Each town offers its own unique view of life and traditions established long ago. Finally arrive in Ollantaytambo, the oldest still-occupied town in Peru where you visit the prominent ruins overlooking the Sacred Valley.  Checkin to hotel for overnight. Dine in local restaurant of your choice (B
Day 4: Ollantaytambo to Machu Picchu (afternoon)
After an early breakfast, we visit the prominent ruins overlooking the Sacred Valley then board the train to Aguas Calientes for a 1.5 hour ride through seductive landscapes and vistas. Stop for quick lunch in Aguas Calientes, then board shuttle bus for 30 minute ride to the main entry of Machu Picchu where you begin your guided tour.  Park closes by 5:30 pm.  Return by shuttle bus to Aguas Calientes and check in to your hotel for the evening.  Free evening to shop or explore the "city without vehicles."
Day 5: Machu Picchu (morning) to Cusco
Enjoy breakfast in your hotel, then board the shuttle bus to return to Machu Picchu on your own for the morning.  Return by bus to Aguas Calientes where you have time for quick lunch. Meet up with your guide and board the afternoon train to Ollantaytambo where our driver will be waiting.  Return by car 2 hours to your hotel in Cusco.  
Day 6: Cusco Guided Outskirts Tour (by car or on foot)
08:30 AM. Guide and driver arrive at your hotel for pickup to begin the 15 minute drive to the tranquil terraced rocks of Tambomachay ruins (meaning guest house), with aqueducts, waterfalls and canals.  It is said that the Inca emperor came here to bathe and perform religious rites in the water. Choose to walk 7 KM through local farms (or drive on paved road) to the mysterious Qenco temple ruins where sacrifices and mummification took place. Not far are the ruins of Sacsayhuaman, one of the most significant archaeological legacies of the Incas. Due to the complexity of the layout of the massive blocks of stone, some bigger than a car, it is said that the construction of Sacsayhuaman lasted more than 50 years and employed over 20,000 men in the construction. Return to hotel.  Car 3-4 hours / Foot 4-5 hours.  Free afternoon.
Day 7: Cusco - Puno
Travel by bus following the Route of the Sun. 06:20 AM transfer to station to board tourist bus for 8-9 hr ride through beautiful highlands with stops at "Sistene Chapel of the Andes" and Raqchi ruins (tickets not included. if you want to go inside, you can buy for $12-$15 pp) The comfortable tourist bus rambles along paved roads through the Peruvian highlands with stops to explore the Pukara Museum, Raqchi and Andahuaylillas. Includes a stop for lunch offering a buffet of tempting Peruvian cuisine. 5 PM: Arrival and overnight in Cusco. Lunch included. Arrive at bus station in Puno where driver will be waiting to transfer you to hotel. 6 pm. Local guide arrives for pre-trip briefing in lobby of hotel.  Walk to local restaurants of your choice.  (B) Altitude 12,500 ft.
Day 8: Lake Titicaca - Floating Reed Islands
After an early breakfast, we board 20 passenger motorized double deck tourist boat to the Floating Reed Islands of Uros where you stop to visit the Aymara people and discover the story behind these island.  Continue by boat to the charming Taquile Islands for lunch. Return to Puno and transfer to hotel.  Walk to local restaurants of your choice.
Day 9: Puno - Lima
Transfer 45 minutes to the airport for your 2 hour flight to Lima. Conclusion of our services. Make connections to international flights.
Tour Options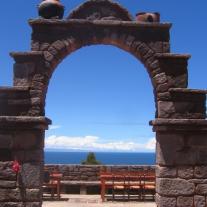 Frequently Asked Questions
Coming soon! Send your questions to info@adiosadventuretravel.com.
This Adventure Includes
    Cusco airport transfers and all land transportation (private vehicle, bus and train)
    Boat ride in small, public boats
    3 * Hotel accommodations/private bathroom, including Peruvian breakfast buffet
    2 Entries to Machu Picchu National Park and single entries to the sites as described
    Private, guided tour of the ruins with English-speaking guide
    Full-time, English-speaking escort

 
Not Included
    International airfare to and from Lima, Peru
    Domestic airfare between Lima & Cusco  and Juliaca & Lima
    Lunches or dinners
    Bottled drinking water or other beverages
    Tips
    Travel insurance
Notes
Itinerary subject to change
We can book domestic flights in Peru on request