We take care of all the land arrangements in both Ecuador and Peru so you can kick back and enjoy your vacation of a lifetime to Galapagos and Machu Picchu. (we also offer trips to Galapagos Islands for budget travelers ( min 2)
Start your vacation in the wondrous Islands of the Galapagos. Adios Adventure Travel promotes sustainable tourism with our affordable land-based itinerary that gives you 5 days/4 nights to hop between 3 different islands. Sleep in a comfort & enjoy fresh local cuisine. Small groups travel by boat between islands with stops for snorkeling & visits to observe wildlife, including marine iguanas, blue-footed boobies, penguins, sea lions, giant tortoises & much more. Snorkeling equipment & meals included.
Then fly to Peru to discover the culture and heritage of the Andean mountains. In Cusco, you will explore local Incan sites, including Korikancha, Sacsayhuaman and the Sacred Valley on your way to the mystical citadel of Machu Picchu. Includes private, guided tour of the ruins and time to wander on your own.
Our tours are small and intimate to give you the meaningful experiences that make travel special. We use local services and support cottage industries. Hotels are comfortable, often family-owned and include private baths with hot water and linens. Peruvian buffet breakfasts are included in the Peru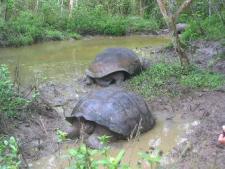 portion of your trip. Licensed guides speak english and offer cultural insights to enhance your experiences.
Itinerary Highlights: Land-based comfort    English-speaking guides \ Snorkeling \ 3 Islands  Cusco Tour \ Sacred Valley Tour \ Machu Picchu Tour \
Day 1 - Arrive Quito or Guayaquil, Ecuador where we will meet you and transfer you to your hotel for the night.
Day 2 - Ecuador to Galapagos Islands   After your Andean breakfast feast, we will transfer you to the airport for your flight to Baltra, Galapagos Island. Your guide will meet you at the airport and transfer you across the Island of Santa Cruz to your comfortable lodge and a luncheon. Snorkel with sea lions, sting rays and baby reef sharks in the shallow, emerald waters of Tortuga Bay, then witness the nesting site of the famous marine iguanas. Welcome cocktail, dinner.
Day 3 - Santa Cruz Island to Floreana Island. Breakfast 8 am. Depart on Tortoise Quest Tour with a trip to the lavish, lush green "Los Gemelos" (The Twins), two enormous collapsed lava chambers - an awe-inspiring visual reminder of the power of nature. Afterwards, we visit a 600-acre private reserve where the giant Galapagos tortoises freely roam, graze and sleep. After visiting the tortoises, we'll take a 5-minute ride to the entrance of a 450 meter (1350 feet) illuminated lava tunnel. Stalagmites, stalactites, sulfur and mineral colored walls all await you on this uniquely Galapagos experience. Return to your lodge for lunch. 2:00 PM departure for Floreana Island. Sailing time is 1.5 - 2 hours. Visit to "Luz del Dia" (Light of Day) Cove, where you will see penguins and sea lions on the steep, rocky shore and rays and tropical fish beneath the crystal-clear waters. Arriving on the dock, be greeted by amazing ruby red and turquoise colored Floreana marine iguanas. 7:30 PM Check in to private cabins and BBQ dinner in home of a local family.
Day 4 - Floreana Island to Isabela Island  Breakfast 8:00 AM. Open-air bus will transport you to the highlands of Floreana for a lesson in local history, like no other. Walk up to see the Asilo de la Paz (Peace Asylum) an artisan spring that attracted pirates, whalers and later settlers to Floreana. See the Cueva de los Piratas (Pirate's Cave) where pirates carved temporary shelter out of the soft stone. Cerro Pajas (Bird Hill) truly lives up to its name with a multitude of Floreana Finches. Visit a tortoise reserve where you can watch many of the giant tortoises up close and personal. Departure at 11:00 AM for Isabela Island. Sailing time is 1.5 - 2 hours. MID-DAY: Weather and tides permitted, as we approach Isabela by sea, we will cruise by Isla Tortuga loaded with frigates, blue-footed boobies and other birds that live by the sea. Arrive in Isabela between 12:30 and 1:00 PM to a port with stunning green and turquoise waters so clear, you can see sea turtles, sea lions and penguins as though looking through glass. Check-in to sea-side lodge for lunch. 2:30 PM departure to Las Tintoreras and Bay Tour. Walk through a jagged 'AA' lava field, passing abundant colonies of marine iguanas, to see a small canal full of resting white-tipped reef sharks. The black, treacherous lava field, the emerald green sea, the forest green mangrove and the cloud-capped volcanoes of Isla Isabela is the sort of afternoon backdrop you will not soon forget. Once you return to the dock, you can snorkel in the warm, shallow bay surrounded by mangrove, for an opportunity to see white-tipped reef sharks, sea lions, penguins and more. Relax, Dinner 7:00 PM
Day 5 - Isabella Island to Santa Cruz Island Breakfast. 8:00 AM. Our tour begins with a drive out of town along the most beautiful, white sand, palm lined beach in all of Galapagos, Long Beach. This beach, straight from the cover of a travel magazine, stretches on for 3 kilometers before the National Park where we walk up the trail for astounding views from the top of Cerro Orchilla. Visit the "Muro de Las Lagrimas" (Wall of Tears), a unique backbreaking-contruction built by prisoners of a penal colony centuries ago. The path to the Wall of Tears is abundant with lava lizards, the males are larger and striped and the females red-throated.
On your return to town, you will visit a breeding center for the giant Galapagos Tortoises and the only place to view the rare, remaining flat-backed (so-called 'tabletop' shells) Galapagos tortoises, many of which still bear the scars of volcanic activity from Sierra Negra. 11:00 AM, depart Isabela for Santa Cruz. Sailing time is 1.5 - 2 hours. Arrive in Puerto Ayora 12:30-1:00 PM. Check in at lodge for lunch. Depart 3:00 PM for guided tour of the fascinating Charles Darwin Research Station.After the Darwin Station, there will be some free time to shop for souvenirs or browse the shops along Charles Darwin Avenue. Dinner 7:00 PM at the Lodge.
Day 6 - Santa Cruz - Quito/Guayaquil  Depart 3 hours before your flight in order to arrive back at the Baltra Airport the requested 1.5 hours before your flight. Transfer and guide included from the hotel to the airport. Upon arrival in Ecuador, we will meet you and transport you to your hotel to enjoy dinner in Quito or Guayaquil at restaurant of your choice.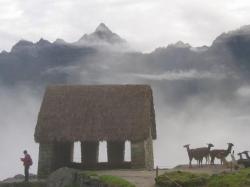 Day 7 - Ecuador to Lima, Peru - Lima to Cusco Following breakfast, we will transfer you to the airport for your flight to Lima, Peru. After clearing customs, you will board your domestic flight to Cusco where your guide will greet you at the airport and transport you to your hotel. Once settled and if time permits, you will enjoy a walking tour of Cusco followed by dinner in the restaurant of your choice.
Day 8 - Cusco- Sacsayhuaman Ruins - Cusco You continue your exploration of the complex urban center of the Incan empire and visit the famous stonework of Sacsayhuaman, the amphitheater of Qenco, the spring-shrine of Tambomachay and the fortress of Pukapukara above the city center. Back to Cusco for dinner and overnight.
Day 9 - Cusco - Sacred Valley - Ollantaytambo  Your day starts with the usual Peruvian buffet breakfast before we start our van ride to explore the Sacred Valley. We'll visit an artisan market and enjoy lunch in a local restaurant before stopping at Maras to see the terraced salt ponds, where each pond is owned by a different family and a stop at Moray, the ancient experimental agricultural center, before we arrive at our hotel in Ollantaytambo. Dinner will be in a local restaurant.
Day 10 - Ollantaytambo - Machu Picchu  Our day begins with a stop at the ruins of Ollantaytambo before we board the train. The two-hour ride follows the Urubamba River through several micro-climate zones and we arrive in Aguas Calientes, where we catch a bus to travel up the switch-backs to the entry of the Machu Picchu National Park. Your guide assists you into the park and escorts you through the ruins while telling amazing stories about the history and lore of the plants, animals and culture that once inhabited the sacred space. You'll have time to wander alone before you make your way back to the buses and return to Cusco for the night.
Day 11 - Cusco to Lima, Peru  The morning will be free before we transfer you to the Cusco airport where our services conclude. You will fly to Lima for international flight connections. Assistance with additional services in Lima is available upon request.
Day 12 -  Arrival in home country
(itinerary subject to change)

Includes:
All airport transfers and hotels during transfers
All accommodations in comfortable 3* or 4* hotels based on dbl occupancy (upgrades available)
All meals while in the Galapagos Islands and breakfasts in Peru.
All land transportation including taxis, buses, private vehicles & trains.
All entry fees to all the places listed EXCEPT the entry fees to the Galapagos Islands - $100 & $10
English-speaking, licensed guides
RT Domestic flight between Guayaquil & Galapagos
Not Included:
International and Domestic flights -(except to Galapagos)
You will need to book the following flights: 1) One way from your home to Ecuador (Quito or Guayaquil) 2) One way from Ecuador to Lima 3)  Lima to Cusco (Round Trip) Cusco to Lima  4) One way from Lima to Home or other destination
Many airlines offer a multi-city itinerary which allows you to travel one way to several cities
It is possible to reverse the itinerary and start your trip in Peru
Lunches & Dinners in Peru & during transfers (allow $25 pp, per day)
Travel Insurance - we strongly recommend
Bottled water - easily available for purchase
 Airport departure taxes (about $40 in Ecuador & $15 in Galapagos)
Tips 
Extend Your Trip.  Select from the following choices:
Add an extra day in the Galapagos Islands
Visit the coast of Ecuador or explore the cities of Quito or Guayaquil
Set up a birdwatching trip, amazon jungle tour, river cruise or have tea in a hacienda on a volcano
Hike the 4-Day Inca Trail in Peru
Visit to Titicaca Lake region for 3 days
Explore Cusco or other Peruvian city for additional days