What do you get when you combine the old-world charm of a hi-tech riverboat with an Ecuadorian jungle? You get an amazingly comfortable travel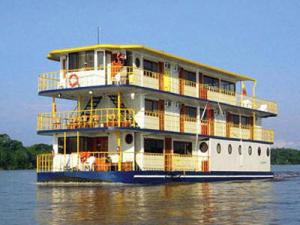 experience and a rare glimpse into a world of Amazon wildlife including: freshwater dolphins, amazon manatee, over 500 species of birds, monkeys, tapirs, over 2500 species of butterflies (just to name a few!)
Riverboat travel promotes conservation and cultural exchange in the region it explores. Sustainable wildlife observation is at the core of the expedition programs, featuring the Yasuní National Park - the most biologically diverse place on Earth - the Cuyabeno Wildlife Reserve, and other smaller reserves such as Limoncocha and Pañacocha. Visits to community centers are also important to get a complete picture of life in the Amazon basin.
The boat is Smart Voyager certified and implemented with many environmentally-friendly procedures on board and in the field. Journey down the Napa River in comfort. 
Services include: internet, mobile phone, Sat TV available.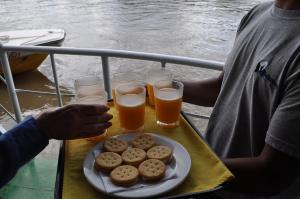 JOIN our CRUISE!  August 13-20, 2016.  Trip begins/ends in Quito, Ecuador.
Day 1 - Aug 13 - Depart US/Home & Arrive Quito.  Transfer to Hotel
Day 2 - Aug 14 - Guided city tour of Quito.  Free afternoon.  Overnight in hotel. (we added a day in Quito to allow for flight delays)
Day 3 - Aug 15 - Transfer to airport for flight to Coca.  Transfer to Riverboat. Visit native home or canoe ride. Dinner. Nocturnal walk
Day 4 Aug 16 - Disembark to meet local people & explore their way of life.  Lunch, then continue to Peru border. Arrive Cuyabeno Wildlife Reserve. Canoe trip upstream to search for Pink dolphins, black caiman, anaconda, sloth, several species monkeys.
Day 5- Aug 17 - Explore swamp forest from high-rise boardwalk.  Lunch.  Explore one of the islands
Day 6 - Aug 18 -  Meet members of local Anangu community at Kuri Muyu Interpretation Center. Lunch. Continue to hidden spot in Yasuni Biosphere Reserve to observe Parrot Clay lick & one of the most amazing wildlife spectables in the jungle.  Parrots/parrakeets eat clay as an antidote that allows them to digest a diet of essential fruits & nuts that are otherwise toxic to them. ("Kaopectate" is made for the same reason)
Day 7 - Aug 19 - Motorized canoe back to Coca.  Fly to Quito.  Transfer to hotel. Free Day (or make international connection home)
Day 8 - Aug 20 - Transfer to airport for international departure.
(Activities subject to change depending on wildlife sightings and needs of local people) 
8 Day Package Price per person: USD $2193 dbl or tpl/ $2687 sgl
Includes:  6 nights accommodations in hotel/cabin with private bath & hot water, all ground & water transportation, domestic flights in Ecuador, 5 day/4 night cruise, airport transfers, all meals during the cruise, entry fees, English-speaking guides
Not included:  international flights, lunches/dinners/bottled water in Quito & in transit (budget $25 pp per day), gratuities (budget $10 pp per day for guides on the riverboat & 15% in restaurants in Quito), travel insurance
Recommended for ages 10 & up.
Accommodates 30 guests - private rooms with A/C - private baths with hot water - laundry service - dining room bar & lounge - panoramic terrace - exquisite cuisine - multi-lingual naturalist guides
Travel anytime of year, choosing from 4, 5 or 8-day excursions. Combine with other activities in Ecuador, Galapagos Islands or Peru. Our travel advisors will work with you to set up an itinerary that works with your needs. Any age can travel. For longer excursions, we need only groups of 16.
4-Day Cruises begin every Friday Year-round - 7 Day Package Trip Wed through Tues $1938 USD pp dbl/trpl
5-Day Cruises begin every Monday Year-round - 8 Day Package Trip Sat to Sat $2193 USD pp dbl/trpl
8-Day Cruises begin Monday or Friday - 11 Day Package trip Sat-Tues / Wed-Sat $2991 USD pp dbl/trpl
Single, Double, Triple & Children's rates
DOES NOT INCLUDE:
Entrance fees to Nature Reserves:
4 & 5 day tour - $45 per person  (children $35);
8 day tour - $58 per person (children $47).
Tips, and other personal expenses.
* Air tickets and park fees are subject to change without notice.

INCLUDES:
River transportation
Accommodations in single, double or triple cabin
Three meals a day and snacks
Professional naturalist guides
All excursions and activities
Rubber boots & rain poncho
Purified water
Consider extending your trip to:
Mindo - Birdwatching
Otavalo Market - shopping
Thermal Spa Resort -day trips or overnights
Cotopaxi Volcano National Park for hiking, camping or lodge accommodations
Quilatoa Crater Loop - for hiking and overnight in local eco-lodge
Galapagos Islands for land-based tours or cruises