Travel in comfort on board Amazon Rain Forest Luxury Riverboat Cruise, the only luxury ship in the Ecuadorian Amazon Rainforest and the winner of the World Travel Awards 2016 for best boutique cruise in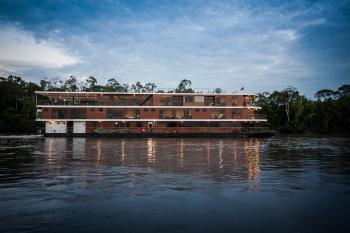 South America. Visit remote and pristine areas where few have had the opportunity to travel, and interact with the region's 15 local communities, while enjoying the comforts, commodities and services of a 5-star boutique hotel in the middle of the Ecuadorian Amazon.
Riverboat travel promotes conservation and cultural exchange in the region it explores. Our guests may choose from four, five and eight-day itineraries, each one of them with spectacular highlights that are sure to make every passenger's trip a memorable experience. On our 8D/7N itinerary, we visit Yasuni National Park, the Cuyabeno Wildlife reserve, and the Limoncocha and Pañacocha biological corridors, giving our passengers the opportunity to connect with the Ecuadorian Amazon and experience its wonders.
Services include: internet, mobile phone, Sat TV available.
Book Your Luxury 8-Day Adventure Cruise Trip Package. Begins/ends in Quito, Ecuador:
Day 1 - Friday Depart US/Home & Arrive Quito.  Transfer to Hotel
Day 2 - Saturday Guided half day city tour or equator tour.  Free afternoon.  Overnight in hotel. (we added a day in Quito to allow for flight delays) B
Day 3 - Sunday Pickup from hotel for transfer to airport. Departure from Quito.  A short 30-minute flight takes us to the frontier town of Coca (Francisco de Orellana) – and transfer to the dock, where we will embark on a motorized canoe and navigate down river about 1 hour, to board the M/V ANAKONDA AMAZON CRUISE. Throughout the journey we have a chance to admire the rainforest landscape and banks of the great Napo River. Immediately after boarding the M/V Anakonda, we continue navigating downstream. Passengers will have their first opportunities to enjoy the exciting features of our cruise ship: the spacious social areas, comfortable suites, and an observation deck that offers spectacular views. An evening walk is organized after sunset; it gives us the opportunity to discover the forest's nocturnal activity and listen to the incessant sounds of nature. Visit native home or canoe ride. Dinner. Nocturnal walk. BLD
Day 4 Monday. We continue our navigation downstream to the Pañayacu River delta; take a canoe trip up the river to experience the sights of this fascinating reserve. We will seek out Pink River Dolphins, Common Squirrel Monkeys and much more. Pañacocha (Piranha Lake, in Quechua) is an ecosystem flooded by white waters. The rivers and lakes here are the perfect habitat for the infamous Piranha, as well as the Water Monkey Fish (Arawana) and White Caiman. After a refreshing swim (for the courageous!), we will enjoy a delicious Amazon-style BBQ meal and refreshing beverages at a nearby camping site. In the afternoon, we will head out on exploration trails, and return onboard for dinner. BLD
Day 5 Tuesday Breakfast on board. We set out to visit one of the most amazing spectacles this side of western Amazonia known as parrot licks, these unique pools of mud become rich in minerals and attract hundreds of parrots, parakeets and amazons every day. If weather permits, we will have a chance to marvel at this astonishing natural phenomenon.Later we will visit the Sani Warmi Kichwa Interpretation Center, where a group of Kichwa women will speak of their customs, cuisine and everyday life. They have created the center in order to showcase their culture, and it is a unique opportunity to learn about Amazonian lifestyles along the Napo River. You will also have the opportunity to buy crafts, local products and souvenirs.After lunch, we will make a stop at the Yakukawsay Kichwa Interpretation Centre, and end with an interesting evening walk through the forest (depending on accessibility, river water levels and weather conditions). BLD
Day 6 Wednesday Meet members of local Anangu community at Kuri Muyu Interpretation Center. Lunch. Continue to hidden spot in Yasuni Biosphere Reserve to observe Parrot Clay lick & one of the most amazing wildlife spectables in the jungle.  Parrots/parrakeets eat clay as an antidote that allows them to digest a diet of essential fruits & nuts that are otherwise toxic to them. ("Kaopectate" is made for the same reason) BLD
Day 7 Thursday In the morning, disembark the M/V Anakonda and transfer by motorized canoe to Coca (1-hour ride); flight to Quito. Airport shuttle to Wyndham Hotel near airport. B
Day 8 Friday  Airport shuttle to airport for international departure. B
(Activities subject to change depending on wildlife sightings and needs of local people)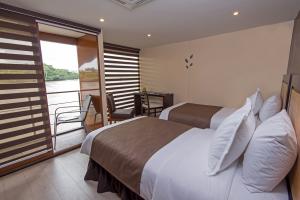 8 Day Package Price per person:
(2016): USD 2165 pp Standard Cabin / USD 2560 pp Deluxe Cabin
(2017): USD 2342 pp Standard Cabin / USD 2780 pp Deluxe Cabin
 
Includes: airport transfers, accommodations in double occupancy, indicated meals (B breakfast, L lunch, D dinner), English speaking guides, private Quito or Equator tour, entry fees to museums, and domestic flights (UIO-OCC-UIO). kayaks, rubber boots, rain poncho, unlimited coffee/tea/water (non-bottled water).
Does not include: international flights, some meals, alcoholic drinks, WiFi on board cruise $15, community fees $60 pp (payable in cash on board), travel insurance, and tips. 
Recommended for ages 10 & up.
Accommodates 40 guests - private rooms with A/C - private baths with hot water - laundry service - dining room bar & lounge - panoramic terrace - exquisite cuisine - multi-lingual naturalist guides
NOTE: The detailed itinerary above is a standard model of our operation. We intend to offer everything as planned, but it is important to note depending on technical or operational difficulties beyond our control, the M/V Anakonda Amazon Cruise reserves the right to modify the itinerary without notice.
4-Day Cruises begin every Sunday Year-round - $2196 USD pp dbl Standard Suite / $2743 USD pp dbl Deluxe Suite
5-Day Cruises begin every Wednesday Year-round - $2734 USD pp dbl Standard Suite / $3430 USD pp dbl Deluxe Suite
8-Day Cruises begin Sunday or Wednesday - $4390 USD pp dbl Standard Suite / $5487 USD pp dbl Deluxe Suite
Our program includes:
Transportation between Coca airport and M/V Anakonda
Accommodation on board
Scheduled visits according to the itinerary with a certified naturalist guide.
Unlimited supply of hot water, coffee and tea.
All meals on board.
Our program does not include:
Transportation to and from Quito airport
Air Ticket Quito - Coca - Quito ($185 per person - subject to change)
Admission to communities and parks ($50 per person - subject to change)
Alcoholic and non-alcoholic beverages
Tips
Wi-Fi Internet
Personal expenses
Other services not specified in the program
Travel anytime of year, choosing from 4, 5 or 8-day excursions. Combine with other activities in Ecuador, Galapagos Islands or Peru. Our travel advisors will work with you to set up an itinerary that works with your needs. Any age can travel. The riverboat can be chartered privately for your special event.
Single, Double, Triple & Children's rates available on request
Consider extending your trip in Ecuador to discover:
Mindo - Birdwatching
Otavalo Market - shopping
Cotopaxi Volcano National Park for hiking, camping or lodge accommodations
Quilatoa Crater Loop - for hiking and overnight in local eco-lodge
Galapagos Islands for land-based adventure tours for all ages