Who doesn't love traveling with their little darlings?  Wide-eyed and fresh, the whole world is waiting for them.  And so are we.  More children are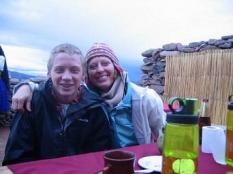 traveling than ever before.  We at Adios have children and we are aware of the special needs & interests of children.  We want to avoid those 'ho-hum-everybody-back-on-the-bus" tours.  (we hope none of our tours ever become like that!)
Tips for traveling with kids:
Let us know the ages of all members of your group.  We have many options for planning activities and we have some special activities and destinations that will stimulate your child's interests and imagination.
Remember that both legal guardians have to be with each child under 18 traveling across international borders.  That applies to inbound and outbound travel.  If one parent/guardian is traveling with children, the other parent must sign & notorize a letter authorizing the travel. 
Link to Travel Consent Letter at about.com/family vacation.   You'll be asked to provide your name & email address and the form will be sent to you.

Ask about adding the following kid-friendly activities to your tour:
Day hikes - Peru, Ecuador & Galapagos Islands
Camp-outs - Peru/we provide all the equipment (and help from our Porters)
Mountain biking - Peru, Ecuador & Galapagos Islands
Horseback riding - Peru, Ecuador & Galapagos Islands
Hands-on cooking fun - Peru
Wildlife & birdwatching - Amazon in Peru/Ecuador & Galapagos Islands
Grand Catered Picnic - Sacred Valley, Peru
Homestay on Lake Titicaca - Peru/step back in time
Visits to rural schools to have lunch with local children - Peru & Ecuador
Go to the top of a volcano - Ecuador
Visit indigenous markets - Peru & Ecuador
Explore the hands-on Solar Museum in Quito, Ecuador/find out if water drains in different directions in each hemispheres
Amazon River Cruise - 4-8 days/Ecuador
We have plenty of museums too, but we know that a little museum goes a long way
Want to lend a hand?  Bring gently-used backpacks & we'll make sure they end up on the shoulders of a rural child who really needs it.
(the quantity makes no difference - please no rolling backpacks)