What they said. . . 
If you'd like to express your gratitude to someone you met while traveling, or to someone who showed you memorable kindness, including the staff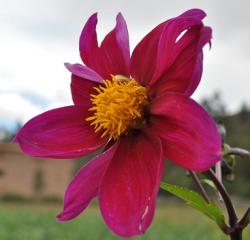 or guides at Adios Adventure Travel, it's easy to do at ThankingofYou.com
Our happy travelers are invited to tell your stories about your trips on any of the online travel forums.  
Hola Vidal,
Looking at all our pictures from the trip, we cannot believe how many things we did on this trip to Peru! Thank you for organizing our trip for us! From start to finish we always were picked up on time, and we never had to worry about our hotels and our transportation. What a wonderful way to spend our honeymoon. We think you have a great group working for you from Juan, the best guide ever, to the cooks, Jeferson and Alex and our driver, Joaquin. The tours that you organized for us were perfect and most of the hotels exceeded our expectations.
Although we planned a busy schedule, you were willing to help us figure out where to take breaks to slow down. When we arrived in Cuzco we were happy to finally meet you and it was wonderful to spend several days with Juan. We loved his knowledge, patience and willingness to chat with us on all subjects.
Learning about the Quecha culture from you and Juan was especially fascinating. Our special day cooking for the Quecha family in the small town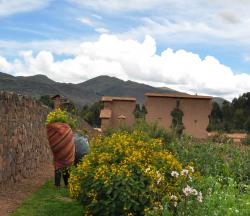 near Pisac was something we will not forget. We felt so welcomed by the family and privileged to be able to eat with them. If Alex has a recipe for the soup we made that he can pass along to us that would be great!
If we get back to Peru we want to do a pacha manca meal like we talked about, someday! Keep up the wonderful work with the sustainable tourism. It is great that you try to help the people and the environment of Peru.
Mary
Great trip to Machu Picchu!! Four of us went on the 4 day trek to Machu Picchu at the end of October and had a wonderful time. Vidal was our guide and he organized a smooth and memorable trip for us. We had six porters, a cook and Vidal. The food was excellent as were all the accommodations on the trail and in Cusco and Puno. Our tour included Lake Titcaca as well. Vidal has much knowledge about his country and he shares it with pride.
I would highly recommend booking your trip to Peru with Adios Adventure Travel.
Cindi Smith and Denise Avitabile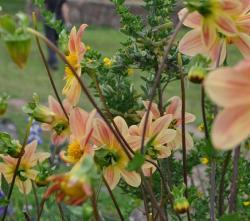 I want to put in a plug for Vidal Jaquehua, the founder and manager of Adios Adventure Travel, the small Cusco-based company with which we made all of the arrangements for our trip. Vidal is simply great — a great person; a great guide. With his charming personality, sense of humor, and the treasure-trove of information he shared with us, he added tremendously to our enjoyment of the trip. He listened to our wants/needs and organized a trip that was completely in synch with our travel style.
He was incredibly flexible during the planning process as my continued research brought about many changes to the original itinerary. I asked him to book our hotels and our domestic airline tickets as well as guide us while we were in Perú. I was grateful that he was with us when an onslaught of food poisoning (brought along from the US) felled me unexpectedly at the Pisac market. The vehicles he arranged for the duration of our trip were brand new, clean, and well-maintained. He accompanied us to the various sites around Cusco, as well as to Ollantaytambo, MP, and later to Lake Titicaca. (At each of these places, we also had plenty of time on our own.)
Vidal was to have met us at Lake Titicaca on the 14th (he was going to take the bus on the night of the 13th in order to be there for our arrival by plane the next day). When he was unable to get out on the 13th due to the strike, he came to see us off at the airport and we bid him farewell not expecting to see him again. It turns out that he managed to get out on the night of the 14th and made the long trip to Lake Titicaca just because he had made that commitment to us when organizing the trip.
Vidal is very proud of his Quechua lineage and very involved in the local communities. At many of the villages we visited, he handed out gifts of pencils, books, shoes to kids — purchased out of his own profits, or in some cases, sent to him by former clients. He took photographs (has a great eye for photography, by the way) of the kids with their gifts to send to his clients — the delight on the kids' faces was something to behold. So, if it sounds like we are quite taken with Vidal and the services he provided, we are. We would highly recommend him to any friends or family members who might visit Perú. 
We just got back from Peru and I have the best Inka Trail guide recommendation - we felt so fortunate to have found him / them. I plan to post something glowing about them. The owner and guide is a man named Vidal and his ethics and politics are really right on, he pays the staff (porters, cook) a fair wage, and he takes profits and builds schools for poor Andean children. Plus, he's fluent in English, intelligent, funny and made us feel like we could do anything.
We set the pace each day and he knew how to keep us away from the throngs of folks that do the trek, thus at times we felt like we were the only ones in the mountains! The food was wonderful. If you do contact him, tell him Sandi and Dane send their best. EXCELLENT EXPERIENCE!!!! STRONGLY RECOMMENDED!!!!
I traveled to Cusco, Peru this past summer (June 2008). I emailed frequently with Vidal to arrange everything for our 4 day-3 night alternative trek that went from Cusco to Huchuyqosqo to Machu Picchu. We were a group of 5 with two English-speaking tour guides, two porters, two cooks and several horses. I would strongly recommend the alternative trail because it is not overcrowded with tourists (we only saw another group of tourists once just passing by), the view is beautiful since it has not been overrun or destroyed by people/tourists. Although the website indicates that groups of 15 are usually taken, we were able to arrange for our own hike with only 5 people, so we had our personal "tour".