Tried and true travel tips for seniors and families traveling in groups of mixed ages.  We have the freedom to modify every itinerary to accommodate the needs and interests of travelers of all ages going to Peru.  Let us know what your concerns are and we'll work around them.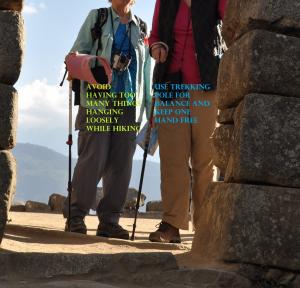 Tip # 1 - Tell us! If you tell us what you need, we'll modify, adjust & tweek the itinerary to fit your needs
Tip # 2 - The altitude of Cusco is 11,000 ft. If you're concerned about acclimatizing, we can reorganize the sequence of your tour so that after you arrive in the Cuzco airport, we'll transport you directly to the Sacred Valley of the Incas, at 9000 ft, to start your vacation. You'll continue to Machu Picchu at 8000 ft, then end in Cusco, which is the highest of the three.
Tip # 3 - Wear comfortable footwear all the time. Many streets are cobbled where there are sidewalks they can be uneven or broken. Not to mention steep in some places.
Tip #4 - Bring a trekking pole for walking support or ask to borrow one of ours.
Tip # 5 - Allow extra time for your vacation. There's no rush. Don't plan activities the first day. Rest! Schedule more time for transitions. If other members of your travel party have different needs, we can offer choices for them.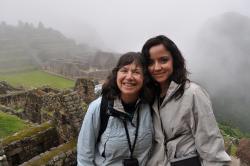 Tip # 6 - Pack light and smart. Avoid having things dangling off your body. They can get caught and throw you off balance. Ask for help with your luggage or bags. Our staff are trained to assist you with baggage. Let us know if you need additional help.
Tip # 7 - Pack extra glasses, hearing aids and medications in an easily accessible place and in a different bag.
Tip # 8 - You don't have to travel alone. Invite a friend or family member to join you or sponsor a grandchild who has reached a milestone. Your grandchildren will get to know you and you'll get to know them.
Tip # 9 - Purchase travel insurance that covers medical, accidents and unexpected changes to your itinerary. It's worth the peace of mind.
Tip # 10 - If you need help communicating with the folks back home while you're traveling, let us know. We can help you make phone calls or use the computers in the hotels or internet cafes.
Peopl of all ages can hike the easy 1 day Inca Trail.  Get more info by visiting our "Complete Idiot's Guide to Hiking the Inca Trail."
The following organized tours are especially suited for senior travelers.
Ecuador Birdwatching  * Traditional Cusco & Machu Picchu Tour *  Galapagos Islands & Machu Picchu Getaway