2019 Machu Picchu Tickets: New Website Launched
Peru government launched new website for booking Machu Picchu entry tickets in 2019. They eliminated the morning and afternoon ticket option and replaced with tickets for entry on the hour. 
So far, Vidal tells me that the general idea for the new hourly entry times is to distribute visitors to avoid congestion mainly in the early morning. There's no intention to rigidly adhere to entering at the exact time of your ticket. You can enter for some time after the hour stamped on your ticket. But you cannot enter even 1 minute earlier than the time on your ticket. How late you can enter after the time of your ticket is unknown. But morning tickets will not carry over to afternoon in case you're wondering. They seem to be trying to figure out how the new system is going to affect flow of traffic, so it's wise to plan to enter Machu Picchu as close to the time stamped on your entry ticket as possible, as long as it's not before that time.
Some websites are saying that the tickets are only good for one hour inside the ruins. That is simply not true. The hourly entry affects the time you enter, not how long you stay. A normal guided tour can be 2-3 hours. Once you exit, you cannot re-enter.
Things that changed:
Machu Picchu tickets - official government website has brand new layout
Entry tickets are purchased for the hour you want to enter. You cannot enter even 1 minute before the time on your ticket.  But you can enter after the hour on your morning ticket. How late we don't know. The official "unofficial" word is that you have an hour to enter. After that hour, entry is at the discretion (and the mood) of the ticket agent on duty that day. 
Visitors with early entry tickets will have precedence for boarding buses in Aguas Calientes. If you attempt to board the bus more than 1.5 or 2H before your entry time, you may be asked to wait. And if someone with an earlier entry ticket shows up they will have priority to board the bus over you.
There were 3 circuits to choose from but the middle circuit was not used much, so it's been eliminated.

There are currently 2 circuits.

The easy lower circuit is through the bottom portion of the ruins, and the more challenging circuit goes up to the guardshack and takes you through the Machu Picchu City Gate to enter the citadel.
The website shows the number of tickets available for each hour. Choose the hour you want to enter if you see tickets available. Begins with 6AM. Ends with 14:00PM
The total number of visitor tickets available per day is 5600 broken down as follows:
6AM=800, 7AM=800, 8AM=800, 9AM=560, 10AM=600, 11AM=600, 12N=360, 1PM=540, 2PM=540 (does not include any hikes)
The 2nd Huayna Picchu hike start time changed to 10:30AM then back to 10AM (Apparently they were just kidding)
Student rate applies to foreign undergrad students up to age 25 with official photo student ID card (ISIC)
Student rate applies to Peruvian undergrad students with SENEDU or MINEDU card 
Student tickets can be obtained in person 3 ways: through an agency/operator, by asking your local hotel or in person in Cusco offices
Visitors in poor health or advanced stages of pregnancy may be denied entry
New Entry times for Machu Picchu Hikes:
Machu Picchu Montana Hike - 
100 people can enter main entry at 6AM and 100 people can enter at 7AM, both for the 7AM Hike
200 people can enter main entry at 8AM for the 9AM hike
Huayna Picchu Hike - 
100 people can enter main entry at 6AM and 100 people can enter at 7AM, both for the 7AM Hike
200 people can enter main entry at 8AM for the 10:00AM hike (changed back to 10AM in late January)
Things that didn't change:
Cost is the same. Adults are 152 soles for Machu Picchu, and 200 soles for Machu Picchu with hike to Montana or Huayna Picchu
No senior discount offered
Hours of operation are the same.  Open at 06:00am / Closes at 17:30pm. Every day of the year
After entry visitors can choose from 2 circuits** and you can take as much time as needed to complete the circuit. Most tours are 2-3 hours. 
Once you exit the ruins you cannot re-enter. 
Montana & Huayna Picchu hikers can re-enter with a ticket for Montana or Huayna Picchu. But not after 12 Noon.
Students under the age of 17 can qualify for school student discount which is less than the discounted rate for college students
2 ticket offices are open in Cusco and 1 office is open in Aguas Calientes. No tickets can be purchased at the entry to Machu Picchu
Availabiity for both 4 day and 2 day Inca Trail hikes are posted on the official government website. Search under the tab QUERIES, drop down to AVAILABILITY
Things we don't know: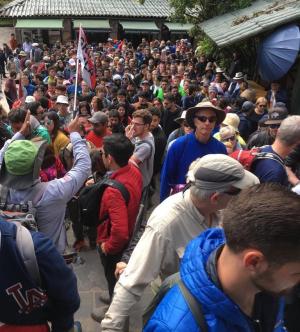 No mention of additional buses being provided to alleviate congestion at the bus stops. We hope that with crowds distributed throughout the morning, this will alleviate the crush to board the early buses to arrive at the main entry by 6am.  There is no advantage to rushing to the main entry to enter first.
Hikers on the 2 day Inca Trail have access to Machu Picchu on Day 2. We believe they can enter at anytime in the morning.
If ticket holders can re-enter with a ticket with Montana or Huayna Picchu. So far we believe you can. Keep in mind you cannot re-enter after 12N.
They have never tried to limit the amount of time you can spend once you are inside the ruins. We don't see any indications that they will limit your time inside. The only restrooms are located by the main entry. Most people end up leaving because they're have finished their circuit.
We'll keep you updated as new information becomes available.  
What else is new at Machu Picchu?  Follow this link to get the story about ban on plastic water bottles.
Looking for an adventure?