Machu Picchu Update: One Ticket One Entry
"One and done." That's the latest change at Machu Picchu. Each entry ticket entitles the holder to enter one time.  
And there are now new options for buying entry tickets in 2019. Visitors can buy tickets to enter on the hour.  
About the new options: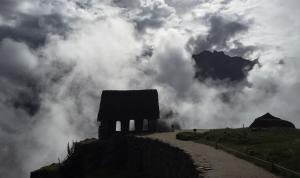 Peru launched new website in December 2018
Entry tickets are purchased based on entry time beginning 6 am and every hour up to 14:00 pm
Ticket availability varies by the hour
there is no advantage to rushing to enter at 6 am. Mornings can be cloudy and misty. It usually burns off by late morning. This is most likely to happen in dry season. (Click here to see more details about Machu Picchu weather and seasons)
The entry tickets for Huayna Picchu and Machu Picchu Mountain have specific hourly entry times for the first entry, and you can re-enter again later after you have completed the 7AM hikes. But it must be before 12N. 
If you buy tickets for the later hikes at 9AM or 10AM, your tour of the citadel is before the hike. After the hike you will walk to the exit gate.
visitors can purchase additional tickets for the same or other days in the office in Cusco or Aguas Calientes
Other things to know:
the line to

buy

bus tickets in Aguas Calientes has improved and they have 2 agents selling tickets.
the waiting line to board buses is average of 1- 2H to go up and 1H to go down in busy season (May-Oct). The duration of the ride is 25 minutes.
Fit visitors can walk back to Aguas Calientes in about an hour. And it's downhill. In that case you should buy 1 way bus ticket and save $12 pp
the new rule requiring guide service is still not being enforced
there is one restroom located at the main entry. People who leave the park are not permitted to re-enter on the same day unless they have tickets that include one of the hikes.  (we're not sure if this is going to change)
you can buy another ticket for re-entry on the same day. But. You have to buy it in advance or take the bus back down to the village where the ticket office is located.
Want More Time to Explore Machu Picchu Ruins? 
The latest change to entry tickets to Machu Picchu limits each ticket holder to one entry. Unless you buy tickets to hike Huayna Picchu or Machu Picchu Mountain.  These hikes are offered at 2 different times during morning shift and allow you spend more time in Machu Picchu. The extra cost for these tickets are 48/s. (about $16 USD pp). Huayna Picchu tickets typically sell out several weeks if not months in advance.  But MP Mountain tickets are often available.  This is the best strategy to gain more time to explore the ruins on your own.
Click here to see the latest Machu Picchu News stories
If you have any questions, we'll do our best to answer promptly.  We try to stay up to date.
Looking for an adventure?