Adios Adventure Travel Women's Adventures: Machu Picchu and more
If you're looking for a small group tour operator to organize your women-only guided vacations and trips to South America, please call our US office in Virginia. Adios Adventure Travel was founded by me, Jacquie Whitt. I can answer your questions from the perspective of a woman. I have personally visited all the places listed on the Adios Adventure Travel website.  Your journey can include visits to high profile well-known destinations like Machu Picchu, combined with lesser known or obscure places for activities like a Pachamanca meal in a Qechua village.  I'm here to help you get as far off the beaten path as you want to go.
Your journey to South America begins with the first phone call to discuss your plans and organize your trip based on the needs and interests of your group.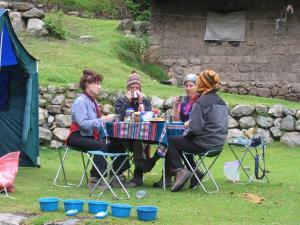 English-speaking male and female guides available (all our guides are trained to assist and attend to the special interests of each group)
I help you plan and customize your itinerary and we coordinate all the logistics 
Private groups. Minimum 2 people. Perfect for clubs, organizations or girlfriend getaways.
Flexible arrival schedule allows time for individuals to adjust to higher altitudes
Our guided day hikes are designed to fit the needs of average, active travelers 
Individual payment plans available for each person in your group 
Pre-travel departure information gets your group ready to go.  Information about money, passports, documents, packing and health.
Hotels range from budget-friendly to 5* luxury accommodations
Insider tips and up to date travel information
Travel assistance in cases where health problems, strikes, weather calamities interrupt your trip.
Customize your women's adventure with:
Visits to small villages or farms for culinary activities 
Donations and volunteer activities
Picnics and short day hikes 
Culinary tours including cooking classes and visits to market 
Cultural activities including parades, festivals, musical performances
Multi-day hikes and treks with overnight camping for women who enjoy roughing it
Special interest groups:  culinary, photography, hiking, textiles
Any trip, trek or tour in this website can be customized for women's groups
I know you have questions!  Please call me:  757-714-6649
Looking for an adventure?