1-Day Guide Service to Machu Picchu
Beginning July 1, 2017, new regulations state that all visitors to Machu Picchu must be accompanied by a licensed guide on their first time in Machu Picchu.  To re-enter without a guide, you need to know the name of your guide who conducted the tour.  
Click Here to go to information about new rules for half-day entry tickets to Machu Picchu
As of September 10, this regulation is not being enforced.  There are simply not enough guides available. Don't worry about hiring a guide.  Just go.  There would be an uproar of momentous proportions if people showed up without a guide and were not allowed in.  When you check in to your hotel in Cusco or Sacred Valley, you can confirm the status of this rule as I'm sure that eventually they will want to enforce it.  But not today or anytime soon.
The biggest obstacle to entering Machu Picchu is not what you think:
Your biggest obstacle to getting in to Machu Picchu is not the lack of guide service or problems with tickets, it's the shuttle buses. You can expect to wait at least an hour to board the bus in either direction.  If you don't mind walking back you could buy 1-way bus ticket up and walk back (about 1.5 - 2 hours) to Aguas Calientes.  It's ridiculous that the Peruvian government went to all the trouble to set up entry tickets that will more than double the number of visitors per day without adding additional shuttle buses to transport those people back and forth between the village and the entry to the citadel.  Their stance is that they will not bring in more buses because of the negative environmental impact.  
TIP:  people who buy tickets to hike Huayna Picchu or MP Mountain might want to get the 2nd time slot in order to avoid waiting in the really long lines each morning for the shuttle buses.  It is sometimes 2 hours to wait in line.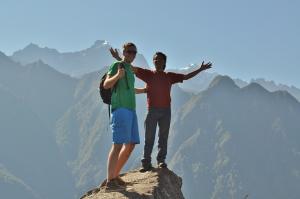 The regulations state that:
Visitors with tickets to hike to Huayna Picchu are not required to have guides during the hike and are allowed up to 6 hours in the park (including the time it takes to complete the roundtrip hike)
Visitors with tickets to hike to Machu Picchu Mountain are not required to have guides during the hike and are allowed up to 7 hours in the park (including the time it takes to complete the roundtrip hike)
Finding Guide Service at Machu Picchu:
There are local guides standing at the main entry for immediate hire. English skills can vary.  Guided tours take 3 hours depending on the circuit you choose and your pace.

During the guided tour, re-entry is not allowed except for "unforseeable circumstances." (given that the only restrooms are located at the main entry, we are hoping that the need to use the restroom qualifies as an excuse to exit and re-enter.)

In the case that there are no guides available, visitors are still permitted to enter. (although new rules state that all visitors must be accompanied by a licensed guide, there are not enough guides available)
Average cost to hire guide at the main entry: (guides will determine their own rates and these are subject to change without notice)
$60 USD - 1 or 2 people
$25 USD pp for 3-5 people
$15 USD pp for group of 10 (maximum group up to 20 people)
Hire an "Adios" professional, licensed, English-speaking guide for your visit to Machu Picchu. Here's what you need to know: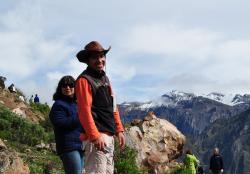 For 1-day service, the guide will meet you at the train station or your hotel in Aguas Calientes. (afternoon entry only. There's not enough time to travel from Cusco on the same day as the morning entry)

Service is subject to availability and is best arranged in advance

Cost covers guide wages, and travel expenses to and from Cusco

Guide services that require overnight in Machu Picchu can be arranged for extra cost

Guide service beginning from Cusco can be arranged on request

Other guide services including Cusco Walking City Tour / Cusco Historical Outskirts Tour / Sacred Valley Tour, can be arranged on request
Cost for Adios guide per group in USD: $211 (up to 5 people)  
Please provide the following information to make a reservation in advance:
(Regulations translated from original government document in Spanish) Medidas Complementarias Reglamento LLaqta MachuPicchu 
"Visitors must enter the Inka city accompanied by a tour guide, as per Art. 17.1, who will have to accompany the tourists during the entire tour from the beginning to the end on any of the 3 circuits fulfilling a minimum of 3 hours and the terms of Art. 18 of the regulation, being organized in advance to avoid any disorder in the town."
Each ticket allows up to 2 entries per shift. If you choose to re-enter or buy new tickets for another shift or the next day, you do not have to be with a guide, but you need to show the name of the guide who conducted the guided tour. (the rules about having a guide are not being enforced)  
"Visitors, who entered the inka city accompanied by a tour guide, the next day, can enter without a tour guide, showing the ticket of the previous day and indicating the name of the tour guide that accompanied them."
Looking for an adventure?