Machu Picchu Ticket Changes: Half Day is Still Better than None
All entry tickets to Machu Picchu purchased after July 1, 2017 are for half-day. Tickets can be purchased on the official Peruvian government website.  
(This page was updated March 23, 2018)
3 Tickets to choose from:
Machu Picchu (morning shift from 6 am - 12 Noon)
Machu Picchu Segundo Turno (or "2do turno" if you look under the "RESERVAS" tab, will be the 2nd shift from 12 Noon - 5:30 pm)
Vespertino (afternoon 13:00 entry) tickets are no longer available
The cost of half-day tickets is the same whether it's AM or PM entry.  S/. 152.00 Adults ($47.50 USD based on 3.2 conversion rate). 

What is the biggest obstacle to getting in to Machu Picchu?
It's not what you would think. The biggest obstacle to reaching the main entry at Machu Picchu is waiting to board the shuttle buses in Aguas Calientes. The wait time can be 1-2 hours. People are getting in line as early as 3 am.  With the new half-day entry tickets, the number of visitors per day has more than doubled. (It went from 2500 per day to 3200 AM + 3200 PM. Not including hikers.) No one paid attention to how the extra visitors would be transported back and forth between Aguas Calientes and the main entry. The government has confirmed that they will not bring in new buses because of the environmental impact! For people who are buying tickets to do the early hikes at Huayna or MP Mountain, you should be prepared to get in line for shuttle buses at 4 am so you get to your hike in time. You don't have to buy roundtrip bus tickets. You can choose to buy 1 way bus tickets and take the bus up and walk back. (average 1.5-2 hours)
I noticed that in July and August almost 100% of the available morning tickets sold out.  However there were very few days where afternoon tickets sold out.  I confirmed with our guides in Cusco that there are fewer people in the ruins during the afternoons and the waiting line for the shuttle buses can be shorter in both directions.
Since the changes to the half day entry tickets on July 1, here's a general idea of how long you might need to wait for shuttle buses regardless of the day of the week. It's possible these times will fluctuate.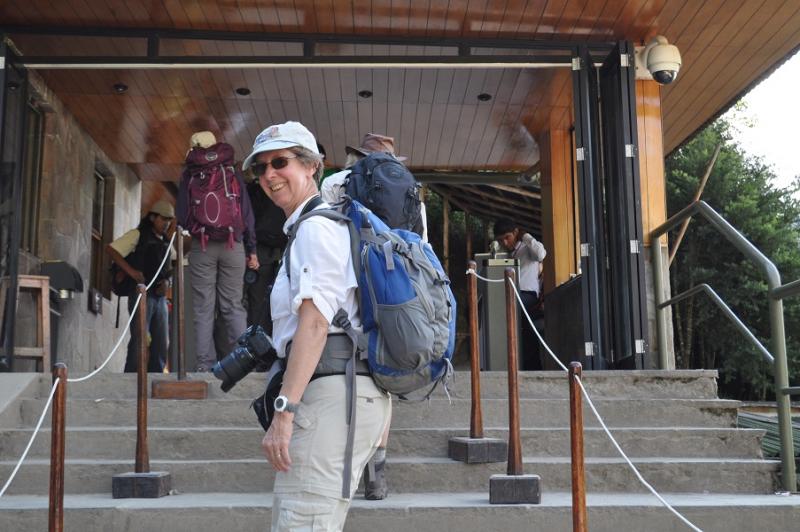 Going up from Aguas Calientes to main entry of Machu Picchu:
Early AM - long lines 1-2 hours / 4:30 - 6:30 am is busiest. From 6:30-7:30 the line is shorter, maybe 45 minutes. Then the train arrives and the line gets long.
Late AM - short lines less than 30 minutes
Mid-day - short lines less than 30 minutes
Coming down from Machu Picchu to Aguas Calientes:
Mid-day - short lines less than 30 minutes
Mid afternoon - long lines 1-2 hours
Late afternoon - short lines less than 30 minutes
Note:
All Machu Picchu tickets are for half-day only.
As of January 1, 2018 all tickets are being checked for time limits. Including the hikes to Huayna Picchu and MP Mountain who used to be allowed up to 6 and 7 hours respectively, to complete the hikes and still have time for guided tours of the ruins.  If you leave the park, visitors with morning tickets will not be allowed to re-enter after 12 Noon.
What you need to know:
Senior discount tickets are not being honored although the new rules clearly state that over age 60 is entitled to 50% reduced rate
It is possible for visitors to buy morning and afternoon tickets for the same day if they want to pay for two entries. You may need to exit and re-enter.  
Vespertino (afternoon) tickets are no longer available.
Hikers who enter from the Inca Trail will have access to the ruins for half day with a limit up to 2 visits. This includes 2nd day of the easy 1-day hike.
Perurail has added few more morning trains from Ollantaytambo to Aguas Calientes (Machu Picchu Pueblo Station)
Guide service is required for the initial entry. (but is not enforced at this time)  For full details, follow this link.
3267 is the maximum number of visitors allowed for each shift (increased from 2500 per day prior to July 1, 2017)
There is no way to enforce the half day limit for morning visits. But once you leave the park you may not be able to re-enter after 12N.
What you need to be prepared for:
The only restrooms are located outside the main entry. (Cost 2 soles pp)   
Tri-pods, backpacks, food and drinks have always been restricted, but not enforced. They may begin enforcing those rules now.
At mid-day there is potential for congestion when 1st shift ends and 2nd shift begins. Check availability for trains before you buy your entry tickets
Allow Additional time to board shuttle buses in Aguas Calientes. (the ride is 25 minutes each way)
The reason for the changes are said to be to improve the experience of the visitor as well as to protect and preserve the treasure of the Peruvian people. 
However it seems to me that without more shuttle buses, the experience of getting to and from Machu Picchu main entry will be more frustrating.  And I'm stunned that the Peruvian government believes they can double the number of visitors per day and still protect the citadel.  
Click here to read our blog about the Truth about Overcrowding and the New Rules
Visitors now are limited to 2 entries per day and must follow marked routes. (see our blog about "Mucho Changes at Machu Picchu")
I believe these changes will improve the logistics for the 1-day Machu Picchu Guided Tour beginning and ending in Cusco.  No more getting up at 3 am.  By purchasing afternoon tickets, the goal will be to spend the morning getting to Aguas Calientes where you have time for quick lunch then head up to the ruins for the afternoon.  And return to Cusco on the evening train.  
Looking for an adventure?