Machu Picchu Ticket Changes: Half Day is Still Better than None
Half-day entry tickets to Machu Picchu for entry after July 1, 2017 are now available on the official government website.  
(This page is updated frequently as we confirm intel from our local sources. Last update: June 18)
Machu Picchu (this will be the morning shift from 6 am - 12 Noon)
Machu Picchu Segundo Turno (or "2do turno" if you look under the "RESERVAS" tab, will be the 2nd shift from 12 Noon - 5:30 pm)
Vespertino (afternoon) tickets are 100/s. per adult for entry at 13:00 (about $32 USD) 
The cost of half-day tickets is the same whether it's AM or PM entry.  S/. 152.00 Adults ($47.50 USD based on 3.2 conversion rate). 
TIP:  if you plan to visit afternoon, Vespertino tickets are 52/s. cheaper if you don't mind entering 1 pm.  Park hours have been extended to 5:30 pm daily.
(there are 2 options now for afternoon tickets: segundo turno from 12-5:30 pm for 152/s. and vespertino from 1-5:30 pm for 100/s.)
On 27 of April 2017, it was announced on the the official Machu Picchu governement website, that beginning 1 July, 2017, entry tickets will only be valid for half day visits to Machu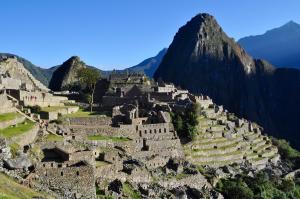 Picchu.  Visitors can choose from two shifts: morning from  6 am - 12 noon and, afternoon, from 12 noon - 5:30 pm.  
The reservation and sale of these new half day tickets is in effect now.
Note:
Machu Picchu tickets purchased for travel after July 1 are now available & will be half-day only.
MachuPicchu tickets purchased now for travel before June 30 are available & will be for full day.
Tickets for Huayna Picchu and Machu Picchu Mountain hikes after July 1 can still purchased at this time if places are available.
Tickets for MP Mtn hikes in June can still be purchased online providing that places are still available.  
We have been told that visitors with tickets to hike Huayna Picchu and MP Mountain after July 1, may be allowed 2-3 hours after the 12 Noon deadline to see the ruins.  This has not been confirmed in writing and is subject to interpretation as well as changes.  
What you need to know:
Holders of tickets that have been purchased prior to June 1, for entry after July 1, may still have full day access. But we don't know for sure.  It's best to plan for half day and if you get more time, it will be bonus.  Keep this in mind when booking your train tickets.
It is possible for visitors after July 1 to buy morning and afternoon tickets for the same day if they want to pay for two entries. You may need to exit and re-enter.  
Vespertino (afternoon) tickets are available for 100/s. per adult for entry at 13:00 and can be combined with morning tickets.  You will need to exit and re-enter.
Visitors can save 52/s. per adult by purchasing Vespertino instead of 2nd shift.  As long as you don't mind entering at 13:00 hours.
Hikers who enter from the Inca Trail will have access to the ruins for half day with a limit up to 3 visits. This includes 2nd day of the easy 1-day hike.
Perurail has added few more morning trains from Ollantaytambo to Aguas Calientes (Machu Picchu Station)
Any company that tells you guides are required are probably trying to sell their guide service.  At this time, guides are NOT required to enter Machu Picchu.
3267 is the maximum number of visitors allowed for each shift
1000 is the maximum number allowed for Vespertino entry at 13:00 hours
What we don't know:
The only restrooms are located outside the main entry.  It will be necessary to allow people to exit and re-enter to use the restroom.
Tri-pods, backpacks, food and drinks have always been restricted, but not enforced. They may begin enforcing those rules now.
If PeruRail is planning to increase afternoon departures for trains from Aguas Calientes to Ollantaytambo.  At mid-day there is potential for congestion.
If there will be additional shuttle buses running especially around mid-day when morning visitors depart and afternoon visitors arrive.  Please allow additional time to board buses
The reason for the changes are to improve the experience of the visitor as well as to protect and preserve the treasure of the Peruvian people. 
Visitors now are limited to 3 entries per day and must follow marked routes. (see our blog about "Mucho Changes at Machu Picchu")
These changes are a great opportunity to improve the logistics for the 1-day Machu Picchu Guided Tour beginning and ending in Cusco.  No more getting up at 3 am.  By purchasing afternoon tickets, the goal will be to spend the morning getting to Aguas Calientes where you have time for quick lunch then head up to the ruins for the afternoon.  And return to Cusco on the evening train.
Meanwhile, rumor has it that 4-day Inca Trail hike permits for 2018 might go on sale in October!  
Looking for an adventure?