Mudslide Leads to Temporary Detour of 1-Day Inca Trail Hike
On Friday March 24, 2017, a mudslide occurred on the 1 day Inca Trail.  The location of the falling earth was just below the waterfall which is between Chachabamba and Winay Wayna ruins. That portion of the trail has been temporarily closed.  Machu Picchu has not been affected. 
UPDATE: As of June 15, 2017, the original path from Km104 has been re-opened for hikers doing the 2-day Inca Trail
Follow this link to see all the NEWS regarding ticket changes at Machu Picchu
Hikers with permits for the 1-day hike will be rerouted by train to KM 106 where they will get off and access a "porter" trail that bypasses the area with the mudslide. The detour goes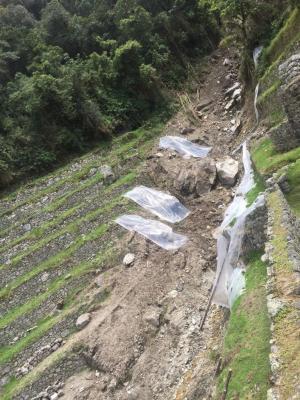 straight up to Winay Wayna.  From there hikers will follow the normal trail to the Sungate and then to Machu Picchu.  
While the porter trail to Winay Wayna is shorter in distance, the terrain is steeper with more switchbacks.  The hike is expected to take at least 3 hours to get to Winay Wayna which is about the same as the main route.  
As soon as the original section of trail is reopened we will let you know.
For additional information about flooding and the affects on travel to other parts of Peru, please read Adios blog. 
If you have questions about your 1-day Inca Trail hike, feel free to contact Adios Adventure Travel US Office. We have daily contact and updates from our team in Cusco.  
The most recent information speculates that it will take up to a year to restore the original trail beginning at KM 104. 
Looking for an adventure?