Inti Raymi Festival Entry Tickets 2017
Update June 15, 2017:  we are no longer selling tickets for the Inti-Raymi festival.  Tickets may still be available from other operators but be aware that seats are assigned and the remaining available seats may not be together, depending on the size of your group. 
Get your entry tickets now for one of the most impressive outdoor theatrical performances in South America. Our office in Cusco is ready to help you arrange everything needed for your trip to the Inca Empire. Inca culture comes alive when Inti-Raymi celebrations descend on the Peruvian city of Cusco.  Contact our US office with questions or to make reservations.  We accept all major credit cards.  We do not add on hidden fees.  The rate we advertise is the rate you will pay. 757-304-8002
Click here to see up to date news that affects travelers going to Machu Picchu
Date:  Saturday, June 24, 2017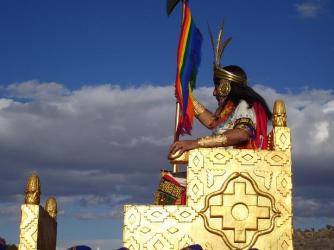 Location:  Cusco, Peru
Description
Inti-Raymi Festival (Festival of the Sun) is celebrated annually during the Winter Solstice and the shortest day of the year. 
How to get there
International flights arrive in Lima, Peru, usually in the evening.  It may be necessary to arrange accommodations at the only hotel at the airport.  Wyndham Airport hotel can be booked online at Expedia, Orbitz and other online websites.  Other hotels including Sheraton, Marriott, Hyatt can be arranged in Miraflores. Ask hotel to arrange driver to meet you for 1 hour transfer each way from the airport. (hotel shuttle buses are not common in Lima)
Flights from Lima to Cusco can be booked on several airline websites including Latam, Avianca, Star Peru, Peruvian Airlines and LC Peru.  Flights can also be found online at travel websites including Kayak, Expedia and Orbitz.  Flight duration is 1 hour / 20 minutes. 
When to Arrive
If you plan to be in Cusco to enjoy the parades and witness the performances, it is recommended you arrive at least 2-3 days prior to June 24. There are daily dance parades and musical concerts going on for most of the month of June, please allow extra time for airport transfers because some roads will be closed to traffic.  Arriving early will give you time to adjust to 11,000 ft / 3350 m altitude.  It is also possible to arrange your visit to Machu Picchu before the celebrations.  
What to Expect on June 24:  Times and locations of performances
Stage 1:  9 AM - 9:45 Qoricancha Temple. The once-a-year festivities are opened when the Inka King and "Qoya" his female companion ask for a favorable ceremony and adundance in the coming year.
Stage 2: 11 AM - 12 Plaza de Armas at the main square of the historical district of Cusco. The entire Inca court is accompanied by dancers, soldiers, Queens and princesses who present flowers, coca leaf, chicha beer and other sacred Inca sacraments to the mountain deities called "Apus."  The Inca King offers a speech to the Mayor of Cusco to encourage good guidance.
Stage 3: 1:30 PM - 3 Sacsayhuaman Ruins located in the citadel above the city center. The highlight of the day continues with dances and performances fit for a king.  Performers representing 4 Inca states assemble for rituals and pageantry befitting a king and queen. The best way to get there is to walk from the city center.  Allow at least 30-45 minutes.
Tickets, Hotels, Transfers
Entrance tickets, guided tours, hotels, airport transfers and any service you require can be provided by Adios Adventure Travel team of experienced guides in Cusco.  
NOTE:  seats are assigned and depending on the size of your group it may not be possible to sit together.  
$168 Adults/$84 Children - Preferred Seating Blue  55 ft / 17 m from the stage (Adult 12+ / Children 3-11)
SOLD OUT

$168 Adults/$84 Children - Preferred Seating Orange 32 ft / 10 m from the stage (Adult 12+ / Children 3-11)

$116 Adults/$58 Children - Economy Seating Green 82 ft / 25 m. from the stage (Adult 12+ / Children 3-11)
Add $65 per group to buy and deliver the tickets to your hotel in the Cusco city center
total number of tickets needed for adults age 12 and over
total number of tickets needed for children age 3-11
date of your arrival in Cusco
Your full name
Name and address of your hotel
full payment - Call our US office / Heather 757-270-9293 or Jacquie 757-714-6649.  We accept all major credit cards.
1st choice seating and if sold out, 2nd choice seating 
Not included:
guide service (walking guides can be arranged for $100 per day per group and if you want the guide to accompany you inside the performance, the cost of entry ticket is $78 USD)
hotels
transportation (can be arranged to Sacred Valley but not recommended in the city center due to road closures and congestion)
meals
bottled water
tips
Terms:
Tickets are non-refundable
Tickets will be delivered in person to you only. We will not leave tickets at hotel reception desk or with anyone else. 
We are not responsible for bad weather or other changes implemented by the organizers of the event. If there is anything that we can do to help out in the case where there are changes, we will do it if possible.  We are not responsible for additional expenses.
For delivery to hotels outside the city center, we charge delivery rate based on the distance and expense of hiring a taxi and the extra time needed.
If you pay for higher rate seats and they are sold out, we will refund the difference between the cost of the lower rate seats.
We will send our staff to buy tickets when convenient after your payment is processed.  If tickets are sold out, we will refund 100% of your payment.  We cannot guarantee availability of tickets.
If you cancel your trip or do not show up to claim your tickets, we reserve the right to dispose of them and there will be no refund.
Additional activities and tours: (minimum of 2 people)
Looking for an adventure?