How to Book Roundtrip Flight from Lima to Cusco for $15 USD
If you're planning a trip to Machu Picchu, all international flights arrive in Lima, Peru. Travelers then fly to Cusco. Here's the step-by-step instructions showing how we booked our roundtrip flight on LAN AIRLINES (AKA Latam) between Lima and Cusco for $15 USD + 9000 points.
To book this flight requires 3 things: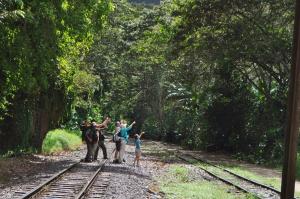 British Airways Membership (free.  May be set up online in advance)

Premium

Chase Credit Card (not all cards qualify - Ink / Sapphire / Reserve)
Chase credit card online management account (free)
I'm assuming everyone knows they need a valid passport!
Step one: 
Open your Chase online management account. On the upper right hand side you should see a box with a link to "Ultimate Rewards" and a display showing how many reward points are in your account. Hopefully there will be more than 9000.  If not, you don't have enough points. If you do, click that link and continue to the next page.
Mouse over the tab at the top called "Use Points."  A drop down menu will appear.  Click on "Transfer to Travel Partners."
Scroll down and you will see a list of airlines and hotels. When you get to British Airways click on the box on the right side called "Transfer Points" and window will pop up with a field showing a bunch of "0." If you get this far, you know you are in the right place.  And you need to confirm you have at least 9000 points in your account.  Keep this page open.
Step two:
Phone the British Airways Avios help line. (Avios is the cute pet name that BA calls their points system) 1-800-452-1201. They will ask for your British Airways membership number and verify your identity.  Then you can request dates and time for the flight you want.  Don't assume that all times are available to buy with points.  Once you have confirmed the date and time of your flight, the agent will confirm the number of points needed.  It's your responsibility to provide appropriate travel documents.
Step three:
You can go back to the Chase online account and fill in the number of points and then click "transfer."  In less than 1 minute, the points should show up in your BA account and the BA agent will complete the ticketing process.  There is usually a small cost to cover taxes or fees.  About $15 USD per roundtrip ticket per person.  You can provide any valid credit card approved for international purchases.  Once completed, you will receive a confirmation email for your ticket. 
Booking this flight with points can save you about $250-$450 USD per person. It's well-worth the effort to redeem your Chase points and reduce the overall cost of your trip to Machu Picchu and other destinations in Peru.  Contact Adios Adventure Travel US office if you need any additional advice for traveling around South America.
Click here to see our list of all expenses for a trip to Machu Picchu.
Looking for an adventure?