Go Little. Or Go Home. The Smallest Adventure Travel Company in the World
The email landed in my inbox like a gift box being dropped on my desk. And there in front of my eyes, as beautiful as any hand-made bow I'd ever seen, was the headline for a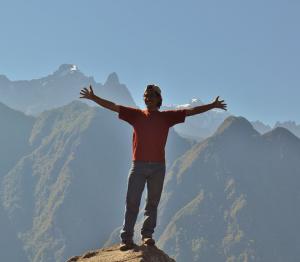 new review just posted on Trip Advisor. "A Life-Changing Adventure with Adios Adventure Travel." Contained in the review was the most benevolent comment anyone could make about a travel company. "These people are not tour operators, they are our friends."
"The Little Company That Could"
That pretty much sums it up for us. We're the little company that could. We're small and nimble. And friendly. With an office in the US and an office in Peru.  We operate our trips like we run our homes.  "Hands-on."  To say we love our jobs is an understatement. The fan mail from our groups is consistently good, but usually sent privately. So to be recognized publicly for a good job?  Well. This review was: Best. Day. Ever.
Latest Travel Trend
Joining the list of recent popular trends, the latest is traveling with boutique tour operators. (Finally!) Although it may be difficult to prove, Adios Adventure Travel is one of the smallest tour operators in the world. Co-owned by Jacquie Whitt in the US, and Vidal Jaquehua in Peru.  Each office is licensed locally, but works collaboratively. And equity is shared. Our staff and partners in the countries in which we operate, are chosen as if they will be our soulmates. You can't take this stuff lightly.  Skills are great.  But ethics drive the selections. You can't teach charisma!
South America Adventure Travel Specialists
We specialize in Adventure Travel to Ecuador, Galapagos, Peru, Bolivia and Chile. We have the A-1 intel on the most popular destinations in South America including:  Ecuador riverboat cruises, Galapagos Islands land-based adventures, Inca Trail hikes, Mountaineering treks, Guided tours to Machu Picchu, Lake Titicaca and Bolivia Salt Flats.  Rounding out the list is Easter Island and Patagonia in Chile.  Not to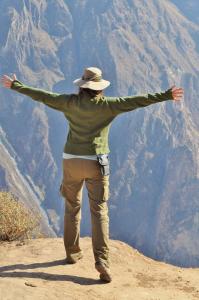 mention our secret hand-picked spots for destination weddings and honeymoons.
We have painstakingly flown, driven, hiked, climbed, biked, swam and boated to all the destinations we have listed on our website. Or we wouldn't offer them. 
What's In It For You?
The biggest benefit you get from a small tour operator is the personal connection to real travel experts, beginning with the very first contact.  And people are surprised at how affordable customized travel services are. It's doesn't cost anything to ask. Whether by phone or email, our replies are prompt and personal. Our advice is authentic. It's important to get relevant information about the destinations you want to visit.  And relevance varies from person to person.  Honestly, no two trips are alike.  And that's OK.  That's why people choose small tour operators. 
And our motto? "Go Little! Or go Home!"
To contact Adios Adventure Travel US office, send us an email. 
Or call.  We're in Virginia.  757-714-6649 Jacquie Whitt and Heather Corona 757-270-9293
Looking for an adventure?