The Secret to Hiking the Inca Trail when Permits are Sold Out
Most people are now aware that if you want to hike the 4-day Inca Trail to Machu Picchu, you need to book your hike with a licensed operator at least 6 months before you travel.  And that is still the case. 
Check Permit Availability
The first thing to do is find out if permits are available for your travel dates. Visit the Machu Picchu government website or send an email to our US office. We'll be glad to check for you. There is no cost.
If Inca Trail permits are sold out. What are your options?
Like most tour operators, we still get requests for 4-day Inca Trail permits sometimes less than 2 months before travel. For some people, booking anything 6 months in advance is just not possible. Work, family and financial obligations make it difficult to confirm reservations that far in advance. People don't want to risk losing their deposit payments by cancelling when life throws curve balls at you. If you haven't heard, Inca Trail permits are 100% non-refundable.
We combined 2-Day Inca Trail Hike (which requires permits that usually don't sell out) with a 3-Day Trek that does not require permits. Total package is 5-day hike that includes trekking over the Sungate into Machu Picchu.  This has become our most popular multi-day hike when permits are sold out. For nature lovers, Cachiccata Trek is recommended. And for hikers who want to explore remote peasant communities, Lares Valley Trek is the best.
Salkantay Trek cannot be combined with 2-Day Inca Trail due to logistics. The trek ends in Aguas Calientes and it's not possible to begin the Inca Trail from there.
Follow this link to get lastest Machu Picchu News. What's happening with the ban on single use plastic bottles in in 2019?
The Secret
Our co-founder, Vidal Jaquehua, has desgined a legitimate solution for people who want to enjoy a multi-day hike combined with the thrill of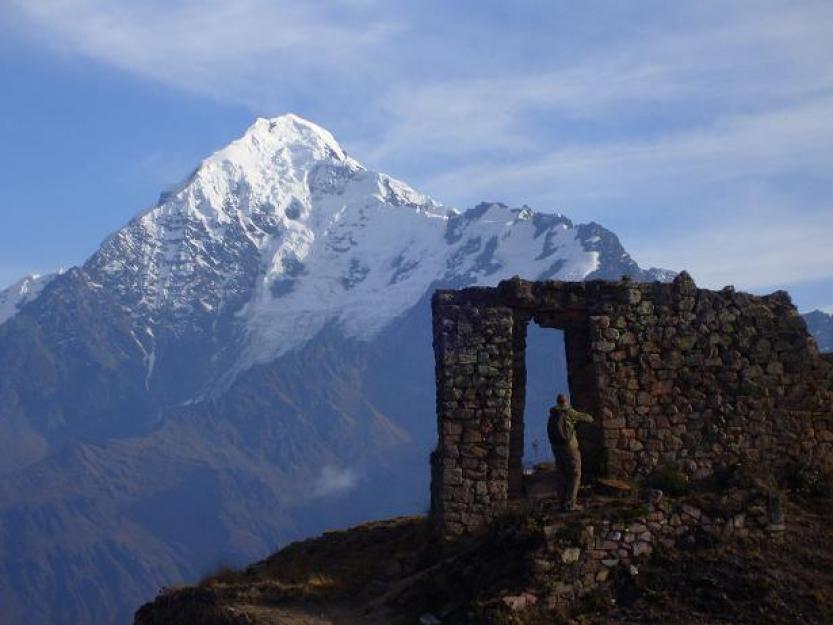 hiking over the Sungate and descending the Inca Trail into the magnificent ruins of Machu Picchu. This is the very same Sungate and trail that's part of the 4-day Inca Trail.  One of the best kept secrets about the Peruvian government permit system is that in 2016m for the first time ever, they separated permits for 4-Day Inca Trail hike, from 2-day Inca Trail hike.  And to add to the list of super top-secret benefits, the government added another 250 permits per day to the permit pool for the 2-day hike.  There are plenty of permits which do not sell out as quickly as the 4-day permits.
Why It Works
Here's why this is such a great hack when 4-Day Inca Trail permits are sold out:
You can make reservations anytime. 
Permits are not needed for Cachicaata Trek or Lares Valley
Availability of 2-Day Inca Trail permits have been increased by 250 per day 
You only need a minimum of 2 people
We handle all the logistics from pickup at your hotel in Cusco until you return
Convenience. You can choose any dates as long as permits are available for the 2-day hike
Here's How We Do It
We combine a 3-Day Cachicaata Trek or the 3-Day Lares Valley Trek with 2-day Inca Trail hike.  The way it's set up, the 2-day permit allows you to hike 1 day on the Inca Trail and re-enter Machu Picchu the next day using the same permit.  We combine that with the 3-day hike of your choice and you have a 5 day trip which includes 2 nights camping and 2 nights in hotels. And if you want to trim back to a 4-day itinerary, it can be done.  We can arrange for you to take a late train back to Cusco on Day 4, the same day as the Inca Trail hike to Machu Picchu. (note: although permits for 2-day Inca Trail rarely sell out, it is possible. We will confirm availability before you book your hike)
How Much Does It Cost?
The cost for the entire 5 day trip will depend on how many people are in your group. Keep in mind this is a customized private hike. For minimum of 4 people, the cost starts at $1192 USD pp. For 2 people, the cost is $1292 USD each. The standard for all our hikes include comfort upgrades:  small groups, 2 porters per hiker, therma-rest mattresses, trained trail cook, wholesome meals and the most amazing guides!
Contact Adios Adventure Travel US office for more information.
Looking for an adventure?