Inca Trail's Best Kept Secret: Availability!
There's good news.  And even unprecedented news.  Permits for 2-day Inca Trail hike to Machu Picchu are plentiful and available almost every day.  The reason for the availability is that the permits for 4-Day & 2-Day hikes have been separated.  Anyone with internet access can go to the government website and check availability for 4-day and 2-day hikes.
Permits for 2-day hikes are now listed separately from
permits for 4-day hikes. And more good news is that more permits are available for both the 4-day and 2-day hikes. Up to 250 more people per day.  Even when permits have sold out for 4-day hikes, permits may still be available for 2-day Inca Trail.   However, we recommend that  you confirm your dates through a licensed tour operator.

If your heart is set on a multi-day hike in summer of 2016, check out the "alternative" hikes including CHOQUEQUIRAO, SALKANTAY, LARES, CACHICAATA Treks, and others on request.  Cachicaata Trek can be combined with 2 Day Inca Trail to become a 5 day combination hike. Contact our US office to ask about this option.
Click here for the link to all the Machu Picchu News
Don't be discouraged if you can't get permits for 4-Day Inca Trail hikes.  Peru is a haven for hikers and nature lovers. There are many other options.  Adios Adventure Travel expert staff can be contacted in the US office and are available by phone (1-757-304-8002) or email info @ Adios Adventure Travel  to answer questions and help you choose the right activity.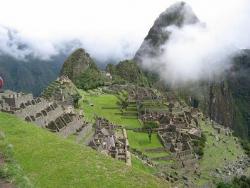 Looking for an adventure?