Tips for Families Traveling Abroad
Tip #1 - If only 1 parent or no parents are traveling with children under the age of 18, the parent (or guardian) traveling with child(ren) should have a notorized Permission to Travel letter from the parent not traveling.  There is no standardized single form.  You can find templates online or create your own. 
Tip #2 -  Carry more than 1 kind of CC (VISA/MC & AMEX) and verify what benefits/limitations your credit cards have: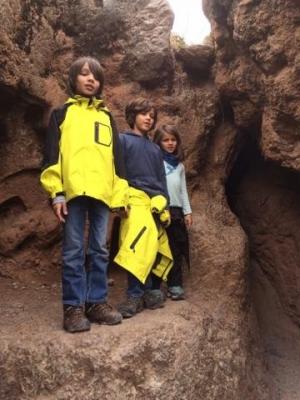 travel accident insurance

trip cancellation insurance

lost luggage reimbursement

purchase protection

access to airport lounges with free WIFI, food, and sometimes showers or family rooms

ability to make purchases abroad without foreign transaction fees

concierge services (can they get you tickets or access to that special activity or place you wanted to see?)
Tip #3 - Do not put valuables in your checked bag, even if secured with a TSA-approved lock.  We've had travelers whose bags arrived in the hotel and when they were unlocked, valuables were missing.   Children should carry their hand-held devices AND the cables in their carryons.
A device without a recharge cable is useless.
Tip #4 - Document the model # and take photos of all valuables/devices and instruct children to have a special place to store their devices while traveling, to avoid loss.  Children should learn to store the device in the same place after every use.  This is a good habit for adults too.
Tip #5 - If you're traveling with a laptop, backup the data at home on another computer or external harddrive.
Tip #6 - Scan all your passports, credit cards & other travel documents, and email to yourself.  If all your luggage and bags were lost or stolen, you could access the information from any computer.
Looking for an adventure?