Behind-the-scenes: what you don't see on your way to Machu Picchu
It's June.  One of the busiest travel months of the year.  Thanks to everyone who told their friends and wrote about us on Trip Advisor, Fodor's and other online travel forums, Adios Adventure Travel bookings doubled in one year.  We're grateful. Don't get me wrong.  And here's a glimpse of the sizzle behind the scenes.
In the US office, Jacquie Whitt is replying to every single inquiry and email, hopefully on the same day it's sent.  People are calling in with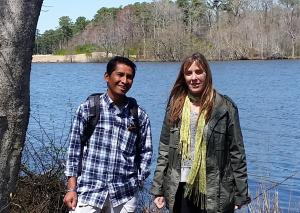 credit card info to confirm reservations for last minute trips for the summer. But most bookings are for the fall and yes, the "holidays."  If you haven't yet had your summer vacation, it may be difficult to comprehend, but it's also time to plan your winter vacations to South America.  Especially if you plan to go to the Galapagos Islands or Amazon Rainforest.
In addition to the new bookings, Jacquie finalizes the travel documents for the groups who are arriving almost every day.  It's her job to confirm the minute details of each and every hotel reservation, permit numbers and even flights.  Once those details are confirmed, she "closes" the document to further changes, converts it to PDF and sends it to leader of each group.  This usually inspires a few last minute questions and even phone calls. This is where Mother Teresa comes in.  At least the patience of Mother Teresa. 
One group had a friend who decided to join their 5-day trip to Machu Picchu one week before they were scheduled to arrive.  The new member actually booked her flights.  Then called to reserve hotels. When Jacquie contacted the group leader to confirm the final details, he mentioned that the new member was coming.  Jacquie realizes this group has reservations to hike Huayna Picchu and discovers there are only 3 places remaining.  A quick text message to Vidal and he jumps into action to make the last minute reservation. 
All the hotel reservations are adjusted and another happy group is on their way for their "trip of a lifetime." Meanwhile, in Cusco, Vidal Jaqeuhua is like the conductor of an orchestra, signaling Marisol, who literally goes to the offices to get the train tickets, the Machu Picchu entry tickets and the boletos turisticos for entrance to the smaller archaeological sites. 
Vidal coordinates the airport transfers and the hikes with the guides, porters and the drivers.  Some groups will self-transfer and others will have a guide waiting for them at the airport.  Jacquie has to prepare everyone for closed roads without actually knowing which roads are closed, because it changes daily. Vidal and Jacquie are on the computer and texting daily, checking the "Codigo" master spread sheet to review and update the details of each group.
Occasionally, someone will get sick.  We try to keep the travelers healthy so they can continue with their scheduled itinerary.  In the case of a multi-day hike, it's nearly impossible to hike while sick.  Vidal has had to cancel guides, porters, food and equipment waiting at the trail head when sickness falls.  Then hotels have to be found and schedules adjusted.  Always keeping in mind one thing.  One primary goal that cannot change or be altered.  The coveted trip to Machu Picchu.
One group traveling from Houston was delayed 24 hours due to airplane mechanical failure.  Jacquie got a phone call from the leader in Houston and immediately texted Vidal in Cusco.  He went straight to the rail office and waited most of the day to change the train tickets so we could get that group in to Machu Picchu.  They missed their one day hike, but they had a full day to explore the magical Machu Picchu ruins.
Another group called Jacquie in Virginia from their lodge in Tambopata National Reserve in the Amazon Rainforest, when "Mom" fell and broke her arm.  Local guides loaded the group into a motorized canoe and headed down river to a clinic in Puerto Maldonado.  Jacquie called the office in Puerto Maldonado and asked to get the group on a flight to Cusco.  They were booked on the last flight of the day. 
It happens that Vidal is out of range for cell phone service and when this occurs, his brother Hubert steps up.  Jacquie contacted Hubert who arranged for an ambulance and doctor to meet the plane.  "Mom's" broken arm was treated and casted and the group continued their 16-day trip to Machu Picchu and Galapagos Islands. All in a day's work. 
Thanks to everyone who has shared their travel stories to Machu Picchu with their friends and online, and thanks for taking the time to write to us.  Your letters of thanks and gratitude are what keeps us going.  Muchisimas Gracias Amigos! 
If you want to find out more about how to organize your own trip to Machu Picchu, start by clicking here.
Looking for an adventure?