Traveling to Machu Picchu with Mom
She's a very young seventy-seven years old, lives alone and stays fit by keeping her villa in immaculate condition. Mom is active, engaged and busy. When she's not cleaning, she's rearranging the neighbor's furniture, hosing down their patios or planting flowers in the big pots by their front door. So when she said she wanted to go to Machu Picchu, I only hesitated for a couple minutes before I found myself saying, "sure Mom, you can join the group traveling in August"
You have to understand that Mom is English. Born, raised and permeated through and through with a bloodline that gives her an aversion to all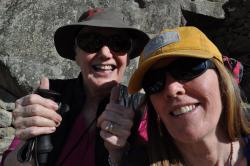 things gritty and rustic. She went to the island of Malta in her younger years. And hated it. I wasn't with her on that trip, but I heard the stories. Epic musings about holding handkerchiefs to one's nose in the hope that the smell of dusty feces would go away. Or treading around poor beggars in the streets and doorways. I did travel with her to France, where the restaurant in which we dined had one restroom shared by both sexes. Mother walked into the room with private stalls, but when she saw a gentleman at the sink, she decided she could "hold it." (those provocative French!)
Mom has historically not been attracted to "developing-world" countries or the people who reside there. So taking her to Lima will be interesting. The airport is located in a dusty, industrial part of town where you don't see a pretty skyline or white beaches or anything associated with being on vacation. To see the attractive parts of Lima, you have to drive 45 minutes away to Miraflores where the hotels and restaurants are. Then you take buses or taxis around the city to see the sites. So we're flying the "redeye" to Lima and arriving early in the morning. We'll stay in the airport, then board our flight to Cusco in the mountains.
Arriving to Lima in the dark, staying in the airport and leaving ASAP are part of my strategy to minimize Mom's exposure to any potential "dust." Mom and I have discussed the cobbled streets of Cusco and the 500 years of ground-in animal feces and vegetable matter from all the living that has gone on there. She has assured me she is ready for this adventure and is prepared to enjoy this trip, in spite of the hardships. I'll be Mom's personal porter.
My friends in Cusco have been warned that Mother is coming, and Vidal has his team in place. These guys know how to take care of people. Wine will flow continuously and private transportation will be the standard. Unfortunately, he can't flatten the mountains, but I will become a human walking stick for Mom and help her everywhere. We don't want to fall!
And as for the Machu Picchu ruins? I've seen young people climb the steps in high heels and older people creep up with their canes. We'll take it one step at a time. This will be Mom's special trip.
Looking for an adventure?