Need tickets to hike Huayna Picchu?
Peru government launches new website for booking Machu Picchu tickets in January 2019. If you're having trouble navigating the Peru government website to get your entry tickets to Machu Picchu, we can help. This is one situation where travel arrangements need to be certain. If you're not sure how to confirm your reservations and make payments, we can get them for you.
We can send someone to the office in Cusco to get tickets for you. For people who want to hike Huayna Picchu or Machu Picchu Mountain,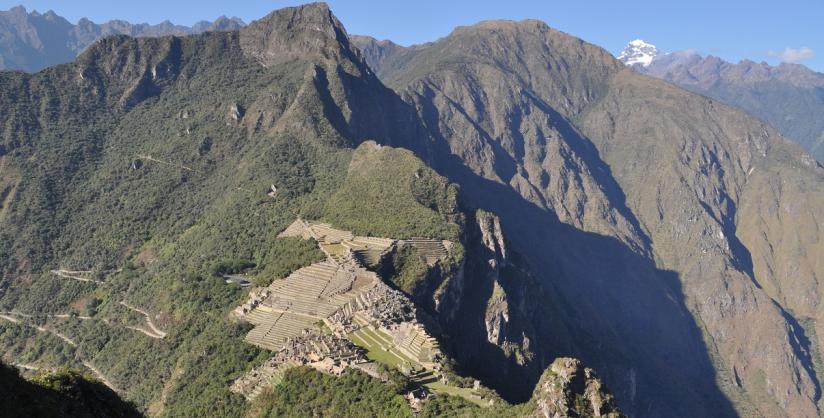 you need confirmed reservations. Tickets for Huayna Picchu sell out at least 1 - 2 months or more in advance. The choice is hike at 7 am or 10 am. For the 7AM hike you have window for checkin up to 8AM. For the 10AM hike you can checkin up to 11AM. Do not confuse this time with the time you must enter the main gate Machu Picchu. Tickets for Machu Picchu Mountain sell more slowly and are available at 7 am or 9 am, also with a 1 hour window for checkin. Please let us know your first and second choice for any of the hikes. Starting in 2019 there are now specific entry times for the hikes beginning at 6AM, 7AM and 8AM. 
Huayna Picchu
Huayna Picchu is the little mountain you see behind the ruins. The hike takes about 1.5-2 hours to go up and then back down. Because of it's popularity, and to limit "wear & tear," reservations are limited to 200 people for each time slot. In order to make reservations for you, we'll need dates, (let us know if you have 1st choice & 2nd choice), your full name and passport info and full payment can be made via phone in our US office in Virginia. (call M-F 10 am - 4 pm 757-714-6649) The passport you send us is the same passport you must show to checkin for the hike!
Machu Picchu Mountain
This is another ticketed hike inside Machu Picchu National Park. The checkpoint can be accessed from the trail that takes you to the Sungate.  Walk up towards the Guard Shack and turn left. This hike is non-stop steps (over 2000) and is much higher than Huayna Picchu. And takes longer to hike. (Read the full description comparing Machu Picchu Mountain and Huayna Picchu)
At the time you contact us, we'll verify that there is space available before you send any money. If, after you have paid, we are unable to get the tickets for the dates you request, we will give you a full refund. The cost per person for the entry to Machu Picchu including the Huayna Picchu hike is approximately 200 Peruvian Soles. (Our rate is $85 USD pp for each ticket) Once we have the confirmed codes, we'll send an email with printing instructions.
To make reservations now or ask questions: Adios Adventure Travel website or call our US Office 757-714-6649
Looking for an adventure?