Adventures in South America: why I miss my Osprey luggage!
Lifetime warranty. I didn't really pay attention to that at the time we purchased our Osprey luggage. I did pay attention to the high quality wheels and the comfortable shoulder straps on the Sojourner bag. My 16 year old son bought the Osprey backpack without wheels. When you're young, you can get away with that. Mature folks need to have a backup plan. All the time. Having shoulder straps and wheels seemed like a good combination.
I didn't anticipate how many times I would use the new Sojourner, but it seemed perfect for our first adventure trip to South America in 2007.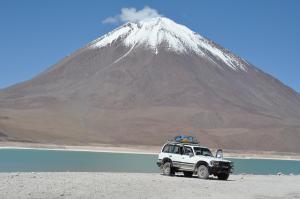 ThenAdios Adventure Travelwas born and the trips to South America continued. Trips to Ecuador and China showed up and the one destination that really put the Sojourner to the test? Bolivia. It's like going to the a high-altitude outback. Only without kangaroos.
The whole country, including the cities, are gritty and rugged, like Dodge City. Even the children walk around like "gunslingers" at the OK Corral. It's like they are adults, but just little. Children in South America have responsibilities that turn them in to creatures capable of running small businesses or negotiating with foreigners. They can hold their ground!
I went on a jeep expedition into the high desert where my Sojourner bag was hoisted up and down off the roof rack at least once or twice a day. Then it was thrown into the baggage hold of buses on several occasions and even made it to Uyuni on my domestic flight, "where every seat was a window seat!" On my last day in La Paz, while packing my stuff for the big flight home, I noticed the fabric on the backside of my Sojourner bag had worn through. Completely through. I grabbed my tiny roll of duct tape and slapped on a few pieces, then rearranged the contents so that my underwear was buried deep, "just in case."
When I showed up at Blue Ridge Mountain Sports to send the bag out for repair, I had no idea they would replace it! But that's what happened. Now I'm a little nostalgic for the old bag. After all, it was the first bag I took on my first trip to Peru, which kind of changed my life. Seems like a pretty big deal. If I had known that I wouldn't be seeing the bag again, I might have hugged it one more time before we parted.
Looking for an adventure?