Puno: gateway to Lake Titicaca
The city of Puno is a fascinating gateway to Lake Titicaca and offers locally run restaurants and comfortable hotels.  Immersion into the local culture is instant.  If you don't speak Spanish, you may find yourself at a disadvantage, but people are friendly and helpful.  (Not like you're in France)  
After breakfast in the hotel, Vidal had arranged our transport to the boat docks by tricycles.  The Andean version of a pedi-cab, we hopped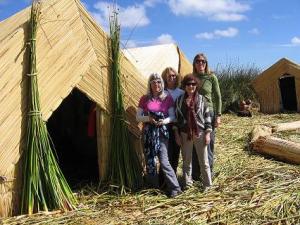 aboard the decorated bikes and wove our way through Puno.  The town was alive with local people going about their business in neighborhood markets and on the streets. We boarded the small 20-passenger boats and went into the cabin to get a seat.  We could go up on the top deck any time to enjoy the views and we did this as we approached UROS, the floating reed islands.
These islands are a charming,  living example of an ancient conservation technique that uses totora reeds to make livable islands.  The islands are completely flat and have no shoreline, so the boat pulls up just like a dock.  When you hop off the boat, you land on squishy reeds.  Kind of like a mattress. That's the only way to describe it.  About 9 ft thick, the Aymara people have perfected the technique and will give a little demonstration how it's done.
Everything on the island is also made out of the reeds.  Their homes, their boats, they even sleep on reed mattresses.  We tasted the reeds which reminded me of celery, except not quite as tasty. The ladies lay out their fabric to display their hand-made wares.  Everything from jewelry, pillow covers, carved things, slippers and hand-embroidered wall hangings. The ladies gather to sing a song and the men pull up to the edge of the island in a reed boat to give you a spin in the water. 
The whole experience may seem kind of touristy and showy, but not in a Las Vegas kind of way.  More like your kid putting on a performance at school. It's a way for the people to support themselves. They don't expect handouts.  If tourists were not interested in seeing these islands first-hand, then I'm convinced the resourceful Aymara people would come up with an alternative means of self- supporting, but the world would lose a valuable historic connection to something important. 
The Aymara people are not themepark actors, hired to portray pirates, pioneers or presidents. They are being themselves in real life.  They seem happy to do this, (although I have to admit I've never been included in those heart-to-heart, kitchen-table discussions, where the real thoughts are expressed.)
If the rest of the world wants the indigenous communities do more than just stay alive, but remain intact and viable, we have to do our part.  I'm happy to go and visit their world for a few hours.
The next phase of our trip was a 3-hour boat ride to Takile Island, which is located more in the center of Lake Titicaca.  The best thing to do is just grab your book or deck of cards, like we did, and enjoy the ride on the highest navigable lake in the world. Vidal is such a good sport.  If we want to play cards, then he plays with us.  He gives the impression he enjoys our company and he must be used to doing this.  This is what he does every day! Someone made hot coca leaf tea and we rallied an Australian or two (there's always an Australian around, no matter where you go!)  and played shithead for two hours while our boat motored towards Takile Island.
Are you intrigued with this kind of travel?  Want to try it?  Contact us here.
Looking for an adventure?