Peru: life in the sky at 12,500 ft above sea level
 Can people really live that high up?  It's 12,500 ft above sea level and they're walking to school and work,  going about their business. Visiting a high altitude destination in the U.S. involves an interaction with nature.  Boots and backpacks prepare you for the elements in an outdoors environment.  That's because there are no cities (unless you count Denver at 5000 ft or Breckinridge at 9000 ft above sea level) 
In South America, (and Tibet),a high-altitude destination can be a city with  schools, stores and hotels. In 1 and 1/2 hours, we literally flew from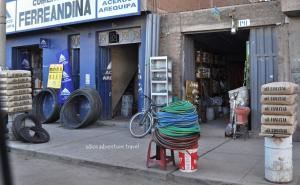 sea level to 12,500 ft above sea level.  I had warned Vidal that we were bringing extra bags of clothing for children.  He never seemed to worry about that stuff.  He was a "roll with it" kind of guy.  I think if we had showed up with 50 bags, he would have somehow gone out to the parking lot in the little tiny Juliaca airport and found a guy with a mule who would have transported them for 5 bucks!
As it was, we were loaded into a luxurious 14 passenger mini-bus.  We drove through the busy, gritty streets of Juliaca, which were  alive with the mish-mash of remnants of  ancient Incan cultures mixed with a little electricity.  There were plenty of gas-powered vehicles, but also plenty of low-impact transportation, including bikes, rolling things, (carts, wagons etc.) and people riding motorcycles.
We saw a family of 4 maneuvering through the traffic on a motorcycle with Dad driving, toddler sitting in front of  Dad and Mom holding an infant wrapped in a blanket.  Car seat!  Ha!  If you can't balance your babies while driving a motorcycle, then you don't deserve to be parents!
The door of the airplane flings open and right away you can tell you feel differently.  But it's not easy to describe.  Rather like being awake while you're dreaming.  You can't put your finger on it.  There is something other-worldly and surreal that happens in your head when you go to altitude like that.  It's more than a little head-ache or shortness of breath, which are normal reactions to altitude change.  It's something else that's always there.  I felt as if I was wearing special glasses and viewing the world through them causing a distortion that is hard to describe.
Adaptation to altitude is probably the most discussed topic for people traveling to the mountains of Peru.  And with good reason.  Most people in the world don't live above 10,000 ft and rarely get above 5000, unless they live near mountains.   If you've ever been to Denver, Colorado, also called the "mile-high" city, you can understand why the thought of arriving in a city perched at 11,000 ft above sea level gets your attention.
I figured if we survived our previous trip to 11,000 ft. in March, we would be fine with adding another 1500 ft when we arrived on this trip.  I could tell the difference between Cusco at 11,000 and Puno at 12,500.  My head felt a little more funky in Puno. Vidal brought another guide with him, Juan.  Oh my God, was he cute!  His voice alone was deep, rich and masculine.  His English was deliciously sexy with his heavy Spanish accent.  And the best part?  He had no idea.  Dinner was fantastic.  Us four girls and Vidal and Juan. 
We stumbled a bit on our way back to the hotel, stopped at a cambio and a couple of stores to get some of those funny hats.  Once back at the hotel, Vidal made sure we had everything for the night, then disappeared.
It was difficult to sleep.  After dinner, we settled into our hotel for the night.  I ended up pattering around the halls for part of the night, with my headlamp and my book, looking for a cozy spot to read.  I descended the stairs to the main lobby, thinking I could get on the computer.  I was surprised to see that all was dark and not only that,  the night clerk was sound asleep on the sofa.  I sat on the stairs for a while to read, before I reluctantly returned to my room to try again.
Ready to give it a try?  Adios Adventure Travel can help you plan your adventure to Peru
Looking for an adventure?