Preparing to hike the Inca Trail
In order to plan the next trip, I had to stay in touch with Vidal.   I noticed that he would go for weeks and weeks without any time off from his job.  He  answered emails late at night.  Sometimes, he would be offline for days.  Usually because he was leading hikes or groups traveling on the islands in Lake Titicaca, where he was off the grid.  He was definitely a devoted worker.
The limitation of Vidal's contact was not a worry to me, but I could see how a potential new client might be inclined to take their business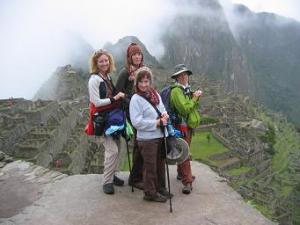 to another tour operator with better availability.  When you're getting ready to stroke a 2 or 3 thousand dollar hole into your checkbook, you should feel confident about the person receiving those funds.
My friends and I started preparing for our high-altitude Inca Trail hike by walking as much as we could in our "no-altitude" beach community.   Sometimes, we would walk for 8-9 miles.  This was a great opportunity to prepare our feet and footwear, but was a limitation in preparing for hiking to 14,000 feet above sea level. While I did round-out my exercise routines with regular trips to lift weights in the local gym and attempts to climb hills on treadmills, without the deprivation of oxygen, there was nothing else we could do to train.
Fortunately, there are some things that are better left unknown.  I had visited 10,000 ft on Mt. Evans in Colorado, by car.  I remember being a little loopy at the top, but the memory was distant and I figured I would work out any adaptation -to-altitude issues after I arrived in Puno.  After all, people much older than me visited these destinations and came back alive. Surely, if tourists to Peru were arriving and dying, we would hear about it, right?  That was my premise.  Plodding forward and ever the optimist, I just knew it would be fine.
With a few last minute details in place, 4 women arrived in Lima in November of 2007.  We were fresh as daisies, ready for our adventure.  We also arrived with double the amount of baggage we normally would have taken.  Not because we were traveling with a plethora of personal gear, but because we each brought an extra duffle bag full of children's clothing and shoes to be donated to children in Cusco. 
Looking for an adventure?