Machu Picchu Hourly Entry Tickets: it's not What You Think
It seems there is a misunderstanding of the purpose of the new hourly entry tickets for visitors traveling to Machu Picchu. Peru launched a new website with a new system for selecting entry tickets by the hour effective on January 1, 2019.  Entry tickets are sold for entry on the hour beginning at 6 am and every hour until 2 pm. Hours of operation are the same: 6am-5:30pm daily
Why did the Peru government set up another system for entry tickets?
The purpose of the new system is to distribute visitor entry times to reduce congestion with the long wait lines for early morning buses and entry into the National Park. During the busy season people are waiting sometimes 2 hours or more to board a bus. Because all the tours are now roughly about the same amount of time, it doesn't matter what time you enter. It's actually better to enter later in the morning when the fog and mist have burned off. 
This is one case where the internet is not your friend.
Some news and media outlets are reporting that people can only enter and tour Machu Picchu for an hour. That is simply not the case. Once you're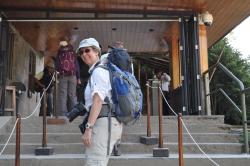 inside you can take as long as you need to complete the route you choose. There are 2 circuits inside.  The procedure is the same as last year once you get inside. This means that once you exit you cannot re-enter. This is the same rule as last year. Average time for tours with pickup guides hired at the main entry take 1-2 hours but that depends on which circuit you choose or if you hike to Sungate.  There are factors that affect how long you can stay inside. Tours by Adios guides take 3-4H. Often it's the call to nature that drives people out. The only restrooms are located at the main entry. They will not ask you to leave once your are inside the citadel. 
What you need to know about the new entry tickets.
You choose the hour you want to enter. I would choose earlier than you think you want because you cannot enter even 1 minute before the time stamped on your ticket. However you can enter anytime AFTER the time stamped on your ticket if it's morning.  Or afternoon. All morning tickets are valid for entry in the morning anytime after the time stamp up to 12Noon.  Same for afternoon tickets. So if you happen to get there earlier than planned you can sashay on in. I would not line up on the hour to enter with a herd of several hundred of your nearest and dearest Machu Picchu fellow visitors. Enter on the half hour or 45 minutes after the hour.  It's not like you "get more time inside if you enter earlier."  It will still take you roughly 2 hours to tour or hike around whether you enter at 8:01AM or 8:39AM.  
What you need to know about shuttle buses.
Visitors with early entry tickets may be given preference for boarding the buses in Aguas Calientes. For instance, if you have 8am ticket you will not be able to board the bus before 7am. There is no exact time schedule. It's a judgement call being made by bus agents at the bus stop. If you show up to board the bus with an entry ticket that is more than 1-2 hours from your scheduled entry time, you may be asked to step out of line and come back later.
Pickup Guides at Machu Picchu.
One thing that may be fueling the confusion is that pickup guides at the main entry might be cutting their guided tours a little short. People cannot enter even 1 minute before the time stamped on their ticket. Pickup guides increase their earnings by guiding as many groups as they can fit in one day. It's in their best interest to lead visitors to believe that a "normal" tour of the ruins must be completed in one hour. Pickup guides want to get in quickly and out in an hour before the next batch of visitors enters on the next strike of the hour!
(Adios guides will not do this. Groups are guided at your pace and there is no hard core time limit unless you need to catch a train! Our tours of Machu Picchu can take 3-4H)
You are not required to hire a guide to enter the ruins. My partner Vidal in Cusco, tells me there are simply not enough guides available. It's not possible to enforce this policy which came out last year. And most guides live in Cusco, which is roughly 5 hours travel time each way from Machu Picchu.
Were there any changes to the number of entry tickets available?
Another thing to note is that there are fewer entry tickets available per day in 2019 than there were in 2018.  The number of tickets dropped from 6400 in 2018 to 5600 in 2019. And ticket availability is not distributed evenly by the hour. The number of tickets available at 6 am is more than the number available at 12Noon. To see more about hourly entry tickets, please follow this link. People who want to do the ticketed hikes are expected to tour the citadel BEFORE they begin their hike. 
Here's a link to monthly ticket stats if you want to see which months had the most or least visitors in 2018. I dutifully collected and manually counted up the numbers each month for the entire year!  Yes you can thank me later.
What else is new at Machu Picchu in 2019? Oh there's more! Click here to follow the link while I rest a bit.
Looking for an adventure?