Best Packing Guide for Travelers to Machu Picchu
Are you traveling to Machu Picchu, Peru this year? The comprehensive Adios Adventure Travel packing list is your best resource for preparing for your trip to Machu Picchu.  Whether you're hiking or traveling by train, we provide detailed information to help you decide how much is too much, and how to choose only the essential items needed for this kind of travel.   Click here to see "Packing Guide for Machu Picchu & Galapagos Island."
Skip down to packing lists below that applies to you:  by train to Machu Picchu, 4-day hikers on the Inca Trail, 1 day hikers on the Inca Trail and cyclists.  (scroll down for photos of backpacks)  Click here to see maps of Machu Picchu location and how to get there.
Suggested packing list for all travelers:
1. Duffel bag with shoulder straps, backpack or luggage with wheels. (soft luggage is preferable on side tours to Amazon, Lake Titicaca or places where bags are loaded on/off small modes of transportation)
2. Day pack or shoulder bag -24-28 liters, can be used as carryon when flying and overnight bag when needed.  (luggage is not taken to Machu Picchu, even when staying overnight.  Visitors must pack only the essentials in a smaller bag. Luggage stays at your hotel in Cusco or Sacred Valley. Applies to hikers and those taking the train)
3. Passport pouch - strongly recommend that everyone carry important documents & valuables under their clothing. Preferably in a dedicated pouch that can be attached to your clothing or body. Having your smartphone picked from your pocket is not nearly as heartbreaking as having your passport snatched. It has happened. Choose a low-profile pouch with cable-enforced adjustable string. Wear it bandolier-style for more comfort. Train yourself to wear it all the time. Even while hiking.
4. Comfortable walking shoes or boots with good ankle support. (check shoelaces) Pack light with 1 pair of sturdy, low-cut walking shoes to wear on tours, day hikes and out to eat. 
5. Clothes: (cotton clothing takes a long time to dry when washed by hand) 2-3 pairs long pants (1 can be "convertible" to shorts) Including the pants in which you travel (1 of these 3 pants could be warm track pants or sweat pants for sleepwear)
6. 1 pair shorts or convertible pants for jungle/lower elevations. However, it's best to keep skin covered. Go with lightweight fabric and wear long pants if possible.
7. 3 T-shirts and 1 or 2 tanks or undershirts
8. 2-3 long-sleeved shirts (1 can be heavy weight for warmth)
9. Swimwear (optional) Hikes that include stops at hot springs may offer chance to get wet, but clothing can be worn.
10. 5-6 Underwear and 5 socks (thermal underwear is highly recommended for being light, warm and comfy for sleeping on cold nights).
11. Water resistant mid-weight, lined jacket (not windbreaker) OR vest. (you can pair the vest with thermal or other warm shirt which can also be worn alone) The key is to dress in layers to be able to add/remove clothing as needed. Follow this link to see climate info
12. Hat or cap to protect from the sun and gloves. (can easily be bought in Peru)
13. Towel or shammy plus small toiletries. (hotels will provide the basics including linens and towels)
14. Sun screen, lip balm, sun glasses. (even when the temp is cool, the sun can be damaging)
15. Alarm clock, flashlight or headlamp, knife (hotels do not typically have clocks)
16. Basic first aid kit. (each person should carry band-aids and pain reliever of their choice)
17. Camera and/or small video camera with several large memory cards.
18. Girls/Women - double your monthly supplies, even if you don't anticipate having a menstrual cycle. Altitude can change that! Pharmacies are available and offer supplies, but if you prefer a particular brand, please bring your own. Bring empty zip loc bags to stash used products and pack it out..
Optional extras include:
19. Plastic sandals or flipflops - useful in the shower. (we recommend that you always wear shoes that cover and protect the entire foot when outside. Walking conditions vary, even in the cities, from pavement, cobblestones, dirt track and muddy paths)
20. Reading materials, playing cards, journal and pen, sketch paper and pencils.
21. Binoculars (should be small and lightweight)
22. Water bottle/bladder - bottled water can be bought throughout Peru, however, we support TAP - Travelers Against Plastic - Follow this link to find out about the use of single-use plastic bottles at Machu Picchu and what your options are.
23. Rain gear - you can substitute a waterproof jacket for the fleece jacket OR you can purchase a poncho for $6 in Peru.
24. Waterproof watch with gizmos - this is the one time where having a watch with altitude and weather reading features, might be fun, if not useful.
25. Maps and tour guide books. (paper or digital)
26. Plug adapter (most hotels have 110 V or both 110/220-for older appliances) 3-prong plugs will need 2-prong adapter
27. Hand sanitizer or individually wrapped towelette sanitizers. Small packet of tissues or small partial roll of toilet paper (in Ziploc bag)
28. Insect Repellent - (Mainly for use in Iquitos/Tambopata/lower elevations in Amazon rain forest & Choquequirao Trek)
29. Duct tape for instant repairs. (Dollar stores in the US sell mini-rolls)
30. Bandana - can be used to dry hands, or wipe things.
31. Neck gator/buff - lightweight. (doesn't take up a lot of space and adds comfort when temperature is cool)
32. Packets of nuts or energy bars such as Clif  (avoid messy chocolate or sugary bars)
33. A few extra Ziploc baggies are handy for a variety of reasons.
34. Spanish or Qechua dictionary (small) is useful.
4-Day Inca Trail Hikers Packing List:
Porters will carry a duffel bag for each hiker. The weight of the loaded duffel bag is limited to 11 lbs/5.5 kg of personal gear while on the trail, this includes sleeping bag and mattress, and leaves about 5-6 lbs/2.7 kg remaining. We recommend no more than the clothes on your back plus one set of warm clothes for lounging/sleeping. Bring your own sleeping bag, or rent sleeping bags for $20 per person. If you choose to rent, please provide a sleeping bag liner.
1. Day pack - the more adjustable, the better it will fit you. Up to 40 Liters maximum is all that is needed.  The smaller, the better.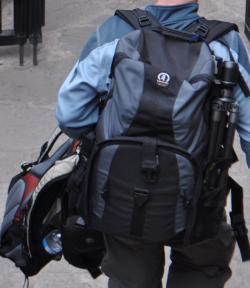 2. Sturdy, waterproof low-top trail runners or boots with ankle support (if needed) And spare shoe laces.
3. Seasonal sleeping bag (rated 0 - 20 F, should weigh less than 5 lbs) - rental bags are available for $20 per person. If you choose to rent our bags, please provide a sleeping bag liner
4. 2 hats: 1 for sun protection and 1 for warmth (hand-made wool hats can be purchased cheaply in Peru)
5. Pillow (optional) Therma-rest makes a compressible pillow, but you can bring any small pillow and leave it behind when your hike is over.
6. Water sterilization tablets. Micropur tablets can be bought in Cusco. These are for backup only, the porters will boil water from streams and run it through a water purifier. (don't be alarmed if it still looks a little brownish)
7. Sunscreen - best to bring 3-4 smaller tubes, than 1 large tube.
8. 2 changes of underwear, 2 pairs socks (check out Balega "blister-resist" socks on Amazon.com)
9. Duct Tape (1 mini-roll can be carried by 1 person in your group. Can be used to repair shoes, packs, raingear, etc.)
10. Energy bars/Nuts - plan on 2 bars a day. You probably won't need them, but they are worth having. Emergen-C powder is great supplement to add to plain water.
11. Minimal first aid supplies should include, moleskin for blisters, band-aids, topical antiseptic, pain-reliever.
12. Water bottle or reuse a bottled water container purchased locally.
13. Trekking poles can be provided with advance notice. If you prefer to use your own, please bring it. Rubber tips required.
14. Women should carry personal sanitary supplies even if they are not expecting their period.
1 Day Inca Trail Hikers Packing List:
You will leave your luggage at your hotel in Cusco (or Sacred Valley) and bring a day pack that includes enough toiletries/clothing for 1 or 2 overnights in hotels. Suggested packing list for 1 day hikers:
1. Day pack & rain cover - the more adjustable it is, the more comfortable it will be / recommend maximum size - 24 Liters for women & 28 Liters for men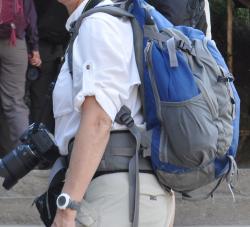 2. Outerwear - mid-weight waterproof jacket, vest or other layers that allow you to remove/add as needed. Including warm hat & sun hat. (some travelers will buy a vinyl rain poncho when they arrive in Cusco and leave behind when they depart. The poncho will cover your daypack as well)
3. Waterproof, low-cut, trail runner-style footwear recommended. Boots are heavy and unless you plan to wear them your entire trip, they are not worth carrying for one day hike.
4. Small, minimal toiletries, toilet paper, sunscreen, pain relievers, blister treatments & lounge wear for the overnight in hotel.
5. Wear the same clothing as 4-day hikers, but carry only one change of clothing & underwear.
6. Passport, valuables, camera, batteries/cables, memory cards. (if you leave your laptop in your luggage in the hotel in Cusco, it will further reduce your load)
7. Snacks & water bottle - at least 2 personal size (16 oz) bottles or a bladder. It's fine to buy & reuse water bottles
8. Trekking pole with rubber tips. (or use ours. Let us know in advance!)
9. (optional) Small draw-string bag or "backpack-in-a-pouch" to use for the tour of Machu Picchu. (leave your daypack in the hotel)
Bikers Packing List:
Bike trips and Bike & Hike trips are van supported unless otherwise noted. Always carry your passport/money/valuables on you. We provide bikes, helmets, equipment needed for accommodations in hotels or for camping. Except for raingear & lounging wear, the following items can be brought if needed, but are optional:
1. Cycling shorts & leg warmers or cycling tights (is most efficient if you wear the same pants hiking & biking
2. Rain jacket/pants (same as above)
3. Riding shoes that you can hike/walk in (optional covers)
4. Riding gloves
5. Water bottles
6. Sleeping bag liner
7. Change of warm clothes for sleeping/lounging - including warm hat & gloves
8. Neck gator or scarf
For everyone, avoid bringing:
• Hair dryer (some hotels will have them) If you must have one, bring a travel dryer with you.
• Jewelry - you can buy new items and wear them home
• Camera bags. Best to carry camera and video equipment in generic looking bag/backpack.
Special Optional Items:
• Universal or S. America Travel plugs with USB ports - 2-prong (bring adapter if you have devices with 3-prong plugs)
• Multi-Voltage external battery pack
• Short extension cord (6'-8') (hotel rooms might have only 1 or 2 outlets)
• Lighted travel-size compact mirror (because hotel rooms are often dimly lit and there might be only 1 mirror in the bathroom)
• Tiny battery-operated table lamps
• Rechargeable pop-up speaker for laptop or ipod (to play music, movies or when more than one person needs to listen to something on a laptop or ipod)
• 3M portable pocket projector - shows whatever is on your laptop on the wall (photos / movies) About the size of my hand.
Tips for staying healthy while traveling:
Prevention- drink & brush your teeth only with bottled or purified water, and eat food only from restaurants that look clean. Do not get ice cubes in your drinks. Ask your guide if you need recommendations for restaurants. If you are served anything that is undercooked, please reject it. (especially meats & dishes with dairy) Avoid street food unless it is approved by the guide or if it's boiled. For instance, I would not drink chicha beer from a bucket at a street stand. But corn on the cob from a giant boiling pot may be OK for consumption. Avoid the cheese they sometimes offer with it. There are restaurants that serve chicha beer that has been handled in a way that will minimize the potential for intestinal issues. Remember that restaurants and breakfast buffets will serve lots of fresh fruit including papaya, a natural laxative. A little goes a long way for some people. If you find yourself running to the bano frequently, but have no other symptoms of illness, try cutting back on the fruit/juices.
First Aid Remedies -
• Black charcoal capsules - this may be preferable to OTC diarrhea remedies because charcoal acts like a sponge and is not a drug, so there are no side affects. OTC drug store remedies may stop the flow of diarrhea, but they have side affects and may cause you to feel weak, shakey and dehydrated.
• Vitamin Powders/drink mixes - these individual packets can be stirred in to small water bottles to replenish electrolytes ("Emergen-C" is one brand, but there are others) Best if sipped 1 teaspoon at a time & hold in your mouth to absorb as much as possible before it goes down the chute! (Very important if you have been vomiting & can't keep food/fluids down)
• Acidophilus capsules or chewable tablets - once you have taken the charcoal & absorbed the yucky stuff in your gut, you'll want to replenish the healthy bacteria. Yogurt is one way to do it if you're able to eat. You'll find yogurt on the breakfast buffet in most hotels. Or take chewable acidophilus tablets. They can be eaten daily for maintenance while you travel
• Chewable papaya tablets - papaya and pineapple contain natural enzymes that aid digestion. I take these instead of Rolaids for upset tummy/indigestion issues.
• If you're sick enough that you're not able to eat, once you start eating again, try the BRAT diet: bananas, rice, applesause & dry toast. Extensions include black tea & yogurt. To shorten the duration of the diarrhea episode, avoid eating fats & proteins, as they are the most difficult to digest. All of these items can be found in drug stores or health food stores.
Looking for an adventure?