Machu Picchu & Galapagos Islands: comprehensive packing guide
The climate of the Andes Mountains is very different from the Galapagos islands.  One is warm and temperate.  The other is a high-altitude mountain ecosystem with mini micro-climates. Activities on the islands may include swimming, snorkeling, boating and beach combing. Whereas, in the mountains, you may hike, explore ruins and participate in cultural activities.  
One thing to note about Machu Picchu and Galapagos Islands is that the temperature range is about the same year round.  Packing will be the same whether you're traveling in June or October. There are no spring, summer, fall and winter seasons as we know it at latitudes farther away from the equator.  There are basically 2 seasons in the Andes Mountains and in destinations near the equator.  Wet and dry.  
The wet season in the Andes begins around late October and ends in April.  There is a slight dip in daytime high temperatures that coincides with the dry season, but it is barely noticeable.  You can see from the charts below that the high temperature in Cusco is high 60s F year round. But at night in the highlands, the temperatures in the dry season can drop to freezing or below.  
The wet season in the Galapagos is from January through May and there is slight increase in daytime high temperatures but it is not significant. The word that best describes the climate in Galapagos might be "balmy." 
How do you pack for all those options without exceeding airline checked luggage weight limits?  And is it even conceivable to carry everything on board and avoid checking any luggage?  
Below is our list of strategies and solutions to packing for trips that include multiple climactic zones.  Also applies to travelers visiting Amazon rain forest on their way to Machu Picchu.  
But first, take a look at the temperature and rainfall for the areas you will be visiting. Data for the following charts collected from 2000-2012.
Cusco, Peru year round temperature and rainfall:  (temperatures can spike into mid to high 70s for short periods around mid-day)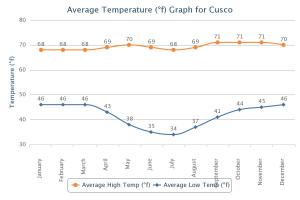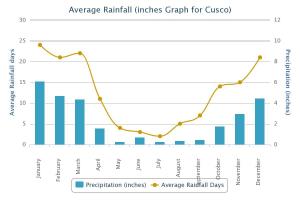 Machu Picchu, Peru year round temperature and rainfall: (temperatures can spike into low 80s for short periods around mid-day)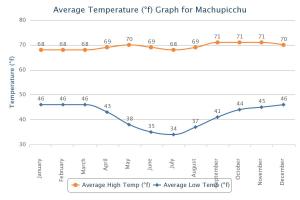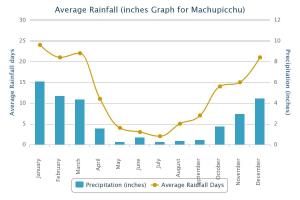 Galapagos Islands, Ecuador year round temperature and rainfall: (day time temperatures can spike into low 80s Feb-April)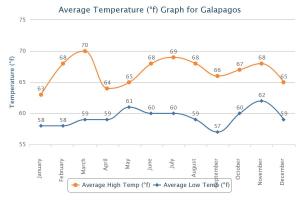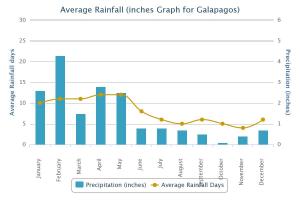 Amazon rainforest, Peru year round temperature and rainfall: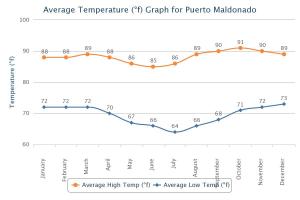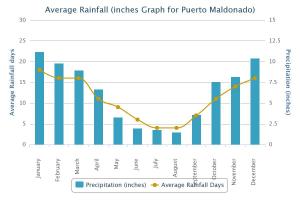 Note that temperatures in Galapagos Islands are not extreme.  The warmest destination of all these destinations is in Puerto Maldonado, Peru in the Amazon jungle.  
The key to packing for multiple destinations with variations in temperature and climate is to pack clothing that is functional in many environments.  For instance, it's not necessary to wear shorts on your trip to Machu Picchu, but it may be useful to have shorts in the Galapagos Islands.  In the Amazon, long pants are recommended to protect you from insects.  T-shirts can be layered with long-sleeve collared shirts and coupled with vests or jackets for cooler temperatures.  Long pants and long-sleeve shirts are available in a variety of light-weight moisture-wicking fabrics.  They can be worn in the rain forest, on the islands or in the mountains.  
Packing list for multiple destinations: 
Tips for organizing your trip:
visit Machu Picchu first, then go to the islands.  Going from cooler climate to the warmer climate can be a psychological benefit.
bring gently-used warm layers to the Machu Picchu portion of your trip, then donate them before moving on to the island portion of your trip.  This lightens your load.  We do not recommend shipping your warm clothing home from Cusco. 
even in the Amazon rain forest, at least 1 warm layer is needed in case a cold front (Friaje) moves in from Argentina
all hotels in Cusco have storage rooms for luggage because it is customary for all visitors going to Machu Picchu to leave their luggage.  
Quito (UIO), Guayaquil (GYE) and Lima (LIM) airports all have luggage storing options.  And it's possible to leave some luggage in your hotel in GYE until you return from the Galapagos Islands (GPS)
Adios Adventure Travel works with you to prepare for your trips and will help you decide what options are the best
Looking for an adventure?