Machu Picchu: The Story of the Lost Toy on the Way to the Lost City
Written by:  Heather Corona / Adios Adventure Travel Trip Consultant
What is the absolute worst thing that could happen to a young autistic boy on his journey through South America?  And what is the best thing that can happen to a busy tour operator who is willing to work out solutions to any problems that land in her email inbox?
For most of us, the best thing about traveling are the companions with whom we make the journey! I know for me, I have the most fun when my best friend, my husband Sergio, travels with me. And I also enjoy traveling with family, friends and co-workers. But there's nothing quite like being with that one special companion whose company you value most.
Recently, we arranged a trip for a family including a mom and her 2 sons, aged 10 and 12. The 12-year-old autistic boy brought his special companion and lifelong friend, a stuffed caterpillar named Twiggy,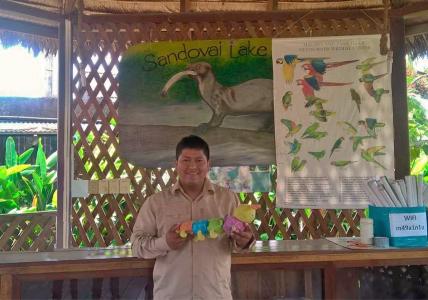 on the family trip to South America. The family began their adventure in the city of Quito, Ecuador, where Twiggy learned all about the equator. Then the 4 of them flew to the islands of the Galapagos where Twiggy got very close to an assortment of friendly and fearless wildlife. The family continued their journey to Lima, Peru, where they embarked on an adventure to the Amazon jungle and this is where the world fell apart for one young man and his caterpillar. Twiggy accompanied our young friend every step of the way including every plane ride, canoe ride, and even slept under the mosquito net in the lodge. So imagine the shock and disappointment when, upon arriving in Cusco and preparing for his next destination, Machu Picchu, our young friend discovered... Twiggy was gone! 
I received the frantic email from his mother early on a 
Monday
 morning. Mom wrote to tell me that Twiggy had been inadvertently left behind at Sandoval Lake Lodge - in the heart of the Amazon jungle! To understand the severity of this dilemma, it helps to first understand the logistics of actually getting to and from the lodge.
The Trek to the Amazon Jungle Lodge
The first step is to fly into the Amazon gateway village of Puerto Maldonado. From there, you transfer to Tambopata port, then take a 45-minute boat ride to Sandoval port. From there, you walk approximately 1 hour to Sandoval Lake. After all that walking, you board a canoe for a 30 minute ride across the lake, finally arriving at the lodge in the early evening. The total journey can take up to 5 hours! Twiggy was exhausted!
My main concern was that Twiggy was lost forever! And my secondary concern was, even if the stuffed rascal could be found, would he have to miss the rest of his trip through South America and fly home in a cardboard box? I knew how sad that would be for our young friend. And to add to the tension, of course, we were up against a clock. The family would only be in Cusco through 
Thursday
 evening. If we couldn't get Twiggy to Cusco by Thursday, he would have to travel via postal mail all the way home (stuffed in a box. Yuk!) I immediately contacted the lodge and could not believe the speed and compassion with which they responded.
The Lodge Jumps to Action
It was all hands on deck! By 
Monday
 afternoon, Twiggy had been located, transported safely by motorized canoe back through the jungle, and was passing his time in Puerto Maldonado awaiting further travel plans. The representative from the Lodge contacted me with a few options. The first option - mail him home. Not our first choice, as he would miss the rest of the vacation! The next option was to send him by air to Lima with another (very kind) family, and have him wait at the airport for a few days to be retrieved by our family as they passed through on their way home. Risky!! I wasn't all that eager to leave him to wander Lima on his own! The third option was the winner! The team in Puerto Maldonado offered to send Twiggy on an exciting bus journey over the Peruvian Andes from Puerto Maldonado to Cusco! It looked like he would get to see more of Peru than the family (who took an airplane to Cusco)! We immediately agreed this was the best option, and the arrangements were made. The staff even took a photo of Twiggy at the Lodge so we could send it to our young friend in Cusco, to show that his companion was safe and being lovingly cared for.
The Long Journey to Cusco
As you can see from the map, Sandoval Lodge (green arrow) and Cusco (red arrow) are not exactly neighbors. The journey that lay ahead of Twiggy would be long and arduous. The bus ride alone is 12 hours long. But Twiggy was eager to get back to his family, so the bus ride began!
Twiggy arrived safely in Cusco on Thursday afternoon, after his long (and tiring) journey. Vidal Jaquehua, Adios co-owner in Cusco, met up with Twiggy at the bus station and escorted him back to our young friend at his hotel. You can only imagine the hugs and kisses at the reunion.
We did it because it's what you would have done. It's what decent people do. We asked if it could be done. And then we made it happen. You would have done the same thing.
This unselfish act and good deed would not have been possible except for the relationship we have with our amazing friends at Sandoval Lodge, and our team in Cusco.  
At Adios Adventure Travel, we understand how the seemingly little things in life can be the biggest things in life to some people. It's all about perspective. And we make sure that your perspective is our perspective.
Looking for an adventure?