Packing for the Amazon Jungle
Ten months of travel preparations and today we are poised on the eve of departure for the Amazon Jungle in Peru. We've had to overcome a few glitches during that time. We've had our flights changed once, our lodges cancelled once and within 2 weeks of departure, two of the trip participants informed us that their departure dates were 1 day earlier than we had in our schedule. That meant we had to change their domestic flights.  Vidal called in a favor with a friend at the airline and another crisis was averted.
What do you pack for an environment that has no electricity, limited plumbing and world-renowned bugs! We're packing a full selection of bug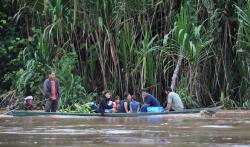 repelling options; from the totally natural organic varieties to the full-strength DEET-based chemical kind. But just as a back-up in case the vitamin B-1 supplements we've been taking don't work as we've been told. We've sprayed bug repellent on our clothing hoping that bugs will be repelled by the scent and go off in to the jungle to annoy the wildlife and leave us to our cold showers. Our equipment is limited to less than 30 lbs or so because we are traveling in motored canoes and small vehicles. Having big suitcases with wheels is not useful in a place without pavement on which to roll them.
The most important item? Our first-aid kit, which includes anti-itch and antibacterial treatments as well as temporary tooth filling! Think about it! What would you do if you lost a filling out there? We threw in a few survival tools including water purification tablets, a compass about the size of your thumb nail, and a signal mirror (if you can find a clearing with sunlight)
There's one more important thing. Our wine. We are each packing a bottle of wine to share. There are no stores in the jungle, except for a rustic counter propped up in the corner of the lodge where you can buy a few snacks or pricey beverages and treats shipped in for the tourists. I'm packing my bottle of wine inside a dry bag. Assuming the wine makes it in tact, I'll use the bag to store cameras and passports when we're doing activities around water.
My camera, ipod, videocam, netbook, including cables & cases, are labeled and organized. I'm taking a HD video camera that you wear on your head or attach to your vehicle while doing activities. We're guaranteed to capture the action on this trip! And the lodge has a generator for recharging batteries. Tech equipment is all set to go. There's nothing left to do now but cram all the piles in to one suitcase and one carryon and get to the airport on time.
Looking for an adventure?