Meet the Adios staff! (left to right) Hernan, Hubert, Juan, Robert, Maribell, Vidal, Alex, Freddy, Jhadr
What happens when a Qechua guide and an Amercan teacher bridge cultural and geographical expanses to form a unique travel company?  An exceptionally intuitive team is formed, capable of overcoming obstacles of language, culture and geography between the western world and the world of the ancient ones.  Our company offers an exceptional opportunity for travelers interested in exploring the traditions & cultures of Andean civilizations.  Our distinctive itineraries provide a  platform on which to discover oneself as well as the destinations visited.  We deliver exceptional travel experiences. 
100% Peruvian, Adios Adventure Travel offers licensed touring, trekking and guide services to the most amazing places in Peru and Ecuador, including the enigmatic Galapagos Islands and now Bolivia. Our main destinations are Cuzco, Inca Trail, Sacred Valley, Machupicchu, Titikaka Lake, Colca Canyon, Puerto Maldonado and Tambopata National Reserve. Our services extend to southern Peru, Galapagos Islands,  Quito, Cotopaxi National Park, Quilatoa Lake, Amazon jungle and more.  Now offering tours to Bolivia.  Explore the gritty streets of La Paz, the picturesque town of Copacabanca, the magical Sun Island, pristeen jungle of Rurrenabaque and the blinding Uyuni Salt Flats.
Whether you seek traditional package tours or adventurous treks, our attention to detail is unsurpassed. We offer hikes near Cuzco, Quito and other regions of Peru, Ecuador & Bolivia. Discover the Inca Trail hike to Machu Picchu or alternative hikes in Peru including Salkantay, Huchuyqosqo, Ausangate, Lares, Cacchiccata and other lesser known and unspoiled destinations. Trekking in Ecuador is equally as untouched, whether you choose Quilotoa Lake or Cotopaxi National Park.  For many, the "Highway of Death" in Bolivia is the place to go.
We specialize in small group travel and have organized tours for:  Virginia Beach Friends School students, PATC (Potomac Appalachian Trail Club), Dutch Explorers (NGO) and many churches and organizations in the US & Canada.  Need references? Read reviews on Trip Advisor, Lonely Planet & Fodor's travel forums   contact our US office.
---
Meet the Founders: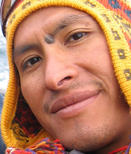 "Hi my name is Vidal Jaquehua. I'm the founder and owner of Adios Adventure Travel. My 5 siblings and I were born and raised in Cuzco, Peru. My parents are Quechuan People (desendents of the Incas). I give up my law career in order to start this business, because I love showing my country and my people with our culture and traditions. For over 20 years I have been a licensed tour guide. I love my job, I have guided more than 6000 travelers over the paths and roads of Peru, so don't worry, you'll be in good hands. Contact me anytime. If you don't get a reply to your email right away. I spend a lot of time in the field and I will reply when I am available."
If you need help right away, contact info@adiosadventuretravel.com
---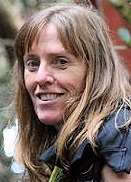 "Hello friends, my name is Jacquie Whitt and I live in Virginia Beach, Virginia with my husband and two children. After 20 years of adventure travel planning and guiding on three continents, I made my first trip to Peru in March 2007. I had no idea what I was getting into, but decided that I wanted to try something different from the typical European/Western culture travel experience. I was overwhelmed by the raw, billboard-free landscape, and especially, by the generosity of the local people.
Vidal and I have become friends and co-founders of Adios Adventure Travel with a licensed office in the U.S.  My experience includes working on management teams for AYH (American Youth Hostels), COBS (Colorado Outward Bound School) and a Quaker school in Virginia.  I have personally guided groups of women and students. My hobby is photography & you are welcome to visit my little website of photos.  Vidal & I enjoy crafting & planning your trips, whether you want to travel with a group or a friend or two.  We can guide you through the planning process and coordinate the logistics.  Whether you crave an adventurous getaway, the mind-blowing trip of a lifetime, or something in between, contact me.
Contact me in Virginia by phone: 757-714-6649 or skype: jacquie.whitt
---
Meet our staff:
"Hola, my name is Hubert Jaquehua Callo. Yes, I am Vidal's younger brother. My passion is bicycling. I prefer to explore the Andes Mountains from the saddle of my bike. It is rumored that I learned to ride a bicycle before I learned to walk! Like my brother, I am a licensed Peruvian guide, but unlike my brother, I am also an avid mountain bike racer. Barreling down the side of a steep mountain on two wheels is my favorite thing to do. I have participated in many local races, including the competition called the Megavalanche from Moray to Maras and another from Malaga Abra to Ollantaytambo. My experiences have given me the skills I need to safely guide our bicycle trips, whether you enjoy toodling along smelling the flowers or tumbling down the rocky paths like a waterfall. Our bicycle groups are van supported and we provide you with bicycles & helmets. We can accommodate beginners and riders with advanced skills. If you have any questions or concerns about bicycling in Peru, contact me info@adiosadventuretravel.com"
---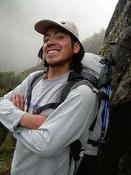 Meet Juan Jose, our most well-known guide. People ask for Juan and there's a reason. Whether you choose traditional tours around the cities or hikes into the backcountry, Juan's expertise, knowledge and friendly nature bring out the best in everyone. With a background in local culture & traditions, Juan has skills that will make your trip special. Juan is interested in theatrical arts and spends his spare time performing in local festivals and events.
---
My name is Hernan Hermoza Gamarra. I am 35 years old. I was born in the town of Urubamba, and then lived in a district called San Blas located in the east of Cusco.  There we have the Temple of San Blas, which was built by the Spanish in the 16th century. Visiting this temple was one of my first interests. Since I was born I was always learning about my culture, costumes, flora, fauna etc.  So now I would like to share my knowledge to travelers coming to Peru.

I am a licensed guide & knowledgeable host, well-versed in the culture, flora, fauna and history of my country. I will ensure you learn a great deal about the destination you're experiencing. I am trained in outdoor first aid, passionate about providing you with an incredible experience and will keep you well fed, housed, and watered. It's important to me that I run a safe and well-managed trip. I will make sure everything is going well behind the scenes to ensure you can relax and enjoy your trip of a lifetime.
---
"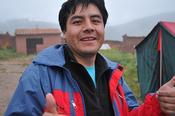 My name is Yieber Cueva Lucana, (Jefferson), I am from Maras. It is a small community part from Sacred Valley. I am working in tourism 8 years ago. Well I started work as assistant Chef and now I am a licensed Peruvian guide. I work in all the trips in Cusco area and Peru. I like to teach about my culture and traditions and to do activities in remote locations. I love the mountain because I consider them my second home. I respect the nature, I love to walk in the mountain and prepare food using the local products as did my ancestors. I learned how to cook because in my community, and specially my mother, cooked lots of food for us during the festivities like birthdays & New Year's. I am now a specialist in Peruvian and Andean food. If you are coming to hike the Inca Trail or visit the cities, I can be your guide on your next adventure to Peru. We are offering a 7-day culinary trip, "Jefferson's Cusco Cuisine Tour." You can contact me at Adios Adventure Travel. Check out my recipes!
---
Introducing Gerardo Arce Hartman, our newest partner in Bolivia.  Gery earned a Master's Degree in Andean Anthropology & is certified in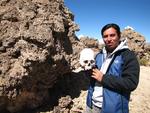 Archaeological Science.  He is a certified level 5 Mountain Climber, a paramedic, a professional auto mechanic, a professional driver and has more than 15 years organizing and leading tours in Bolivia.  "Knowledge is such a great treasure; worthless if not shared," says Gery.  "I love nature, culture and making new friends."  Gery shares the same commitment to safety and comfort as everyone at Adios.  Gery knows the roads of Bolivia like the back of his hand.  When asked if he needed a GPS, he said,  "the GPS is in my head."  Gery has assembled a team of reliable guides & drivers and has relationships with hotels, restaurants & other services that will make your tour of Bolivia meaningful.
To contact us about services, tourist packages, rates, or for any other assistance, email: info@adiosadventuretravel.com
---
Adios Adventure Travel is located: Wright Lane, Virginia Beach, VA USA 757-714-6649 and Kiskapata 291 San Blas Cusco-Peru +51 98 476 2877
Peru is on Eastern Standard Time (No Daylight Savings) Office Hours are: Monday through Friday 8 a.m. - 4 p.m. (Peruvian Time)
Bolivia is on GMT -4 (the same as Washington DC during Daylight Savings Time)